Catalogs

>

FlexiTrunk? Infant Interface Brochure
Catalog excerpts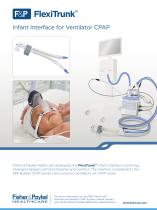 Infant Interface for Ventilator CPAP Fisher & Paykel Healthcare developed the FlexiTrunk™ Infant Interface combining intelligent designs with functionality and comfort. The interface complements the F&P Bubble CPAP system and common ventilators on CPAP mode. For more information on the F&P FlexiTrunk™ Interface and Bubble CPAP System, please contact your local Fisher & Paykel Healthcare representative.
Open the catalog to page 1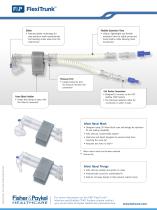 Flexible Extension Tube • Patented glider technology for easy prong or mask repositioning and keeping straps away from the infant's face • Unique, lightweight and flexible extension tube for stable prong and mask fixation while allowing head movements Pressure Port • Capped pressure port for pressure monitor line connection 19x Series Connectors Foam Block Holder • Keeps the tubing in place with the infant's movement • Designed to connect to the F&P Bubble CPAP System • The Universal adaptors allow for connection to other circuits Infant Nasal Mask • Designed using 3D infant facial scan...
Open the catalog to page 2
All Fisher & Paykel Healthcare catalogs and technical brochures

Archived catalogs
Compare up to 10 products