Catalogs

>

InfoSmart? Specification Sheet
Catalog excerpts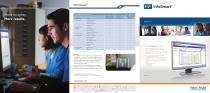 More insights. More results. F&P InfoSmart™ Software Data Reporting REPORT SECTIONS Compliance Statistics SLEEPSTYLE™ CPAP MODELS 242* / 230 / 600 F&P ICON™ NOVO* SLEEPSTYLE™ CPAP MODEL 244* F&P ICON™ PREMO* SLEEPSTYLE™ CPAP MODEL 254* F&P ICON™ AUTO* Efficacy Statistics SensAwake™ Statistics Compliance Metric 2: Treatment Profile Summary System Leak Profile AHI Profile Pressure Profile Usage and Humidity Profile SensAwake™ Statistics Hypopnea Statistics Apnea Statistics Flow Limitation Statistics Pressure Profile System Leak Profile Run Time 5: Treatment Table Summary Compliance Data Efficacy Data * May not be available for sale in certain countries F&P ICON™ F&P InfoSmart™ has been designed to work hand in hand with the F&P ICON™. The F&P ICON™ has been designed from the outside-in to answer the strong call for a contemporary, compact CPAP that blends seamlessly into any bedroom environment, helping to break down some of the traditional resistance associated with CPAP therapy. 185045370 REVB © 2010 Fisher & Paykel Healthcare Limited Inside the F&P ICON™ is a comprehensive set of intelligent technologies, integrated into one stylish solution to deliver new levels of therapy, while effectively meeting your business needs. THE F&P InfoSmart™ SOFTWARE: • A patient management system for all Fisher & Paykel Healthcare CPAPs including: – F&P ICON™ family – leepStyle™ CPAPs with SmartStick™ Technology S – SleepStyle™ 230 and 600 Series • Comprehensive patient reporting that offers: – Compliance data from first use – ummarized efficacy data for any 30-day period S – Detailed efficacy data for any 7-day period • Compatibility with multiple data communication methods: – Telephone reporting – SmartStick™ – Serial Cable™ F&P InfoSmart™ SOFTWARE ORDER CODE: 900ICON100 * A PC running Windows XP SP3 or later is required to run F&P InfoSmart™. For more information, please contact your local Fisher & Paykel Healthcare representative.
Open the catalog to page 1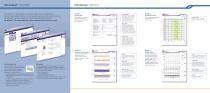 F&P InfoSmart™ is advanced patient management software that is compatible with all Fisher & Paykel Healthcare CPAP devices. Tracking patient progress is vital for business success and F&P InfoSmart™ provides a platform for proactively monitoring patient compliance. F&P InfoSmart™ offers more insights into a patient's treatment while delivering more results. Data Communication Tools Retrieving compliance data in a timely and efficient manner is crucial to business success as well as improving patient outcomes. Fisher & Paykel Healthcare provides the following data communication tools: •...
Open the catalog to page 2
All Fisher & Paykel Healthcare catalogs and technical brochures

Archived catalogs
Compare up to 10 products