Catalogs

>

myAIRVO? System Specification Sheet
Catalog excerpts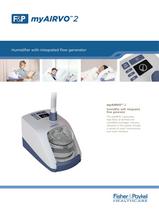 Humidifier with integrated flow generator myAIRVO™ 2 humidifier with integrated flow generator The myAIRVO 2 generates high flows of warmed and humidified air/oxygen mixtures, delivered to the patient through a variety of nasal, tracheostomy and mask interfaces.
Open the catalog to page 1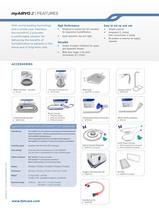 myAIRVO 2 | FEATURES With world-leading technology and a simple user interface, the myAIRVO 2 provides a comfortable solution for delivering the benefits of humidification to patients in the home and in long-term care. High Performance Designed to exceed the ISO standard for respiratory humidification. Quiet operation day and night Variety of patient interfaces for upper and bypassed airways Simple controls Integrated O2 mixing from concentrator or bottle No probes or external air supply required Wide flow range: 5-50 L/min (increments of 5 L/min) Water chamber - reusable Compact Stand...
Open the catalog to page 2
All Fisher & Paykel Healthcare catalogs and technical brochures

Archived catalogs
Compare up to 10 products