Catalogs

>

Chilled beam Flexicool® IQIC
Catalog excerpts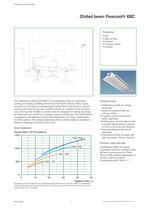 Chilled beam Flexicool® IQIC Chilled beam Flexicool® IQIC Functions • FPC • High air flow • Controls • Comfort control • Heating The chilled beam Flexicool® IQIC is an integrated system for ventilation, cooling and heating, fulfilling most needs for indoor climate. These supply air beams are designed to manage high cooling effects that, because of good mixing with room air, provide comfort and low air velocities in the occupied zone. The top side of IQIC is covered, and it is designed for ceiling mounting. Its dimensions are suited for a ceiling module sized 600 mm. The chilled beam is equipped with adjusting rails for the adjustment of air flow, cooling effect and flow pattern. The simple adjustment of flow pattern makes it possible to adapt to changing conditions in the room. Quick Selection Cooling effect in W incl supply air Product Facts • Chilled beam IQIC for ceiling mounting • Suited for standard 600 mm ceiling module • Capacity and flow directions easily adjustable • Bottom plate can be pushed aside to enable adjustments of capacity as well as check-up and cleaning • Patent pending for the sound attenuator • Fastening brackets for quick and easy mounting - lift up - snap on Product code example Chilled beam IQIC for ceiling mounting, suited for ceiling module 600 mm, manufactured by Fläkt Woods. With stepless adjustment of air flow and flow pattern. Chilled beam IQIC-180-1-1-1 Supply air flow, l/s The diagram shows the approximate cooling effect Ptot in W with water flow qw = 0,05 l/s, temperature difference between room air and supply air Δt= 8 °C, pressure drop 70 Pa on the air side and max. sound pressure level LA10 = 30 dB(A). Fläkt Woods Specifications are subject of alteration without further notice.
Open the catalog to page 1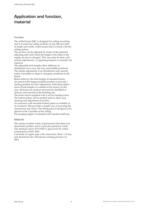 Chilled beam Flexicool® IQIC Application and function, material Function The chilled beam IQIC is designed for ceiling mounting, and it is suited for ceiling modules of size 600 mm both in length and width, which means that it is flush with the ceiling surface. The air flow can be adjusted by means of the patented adjusting rails with which the length of the holes in the supply air duct is changed. This can easily be done with normal adjustments. A regulating damper is normally not required. The adjustable hole lengths allow different air distribution (two-way, one-way and middle...
Open the catalog to page 2
All Fläkt Woods Group catalogs and technical brochures

Compare up to 10 products