Catalogs

>

ControlMaster
Catalog excerpts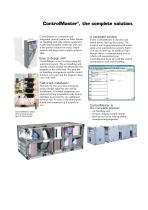 ControlMaster®, the complete solution. ControlMaster is a complete and integrated control system for Fläkt Woods air handling unit. The control equipment is delivered installed within the unit and is the perfect solution for small, simple projects and large more complex projects alike. Easy to design with ControlMaster is easy to select using the selection program. The air handling unit and the control system are selected by the program at the same time. You pick the air handling arrangement and the control function you want and the program takes care of the rest! A packaged solution Every...
Open the catalog to page 2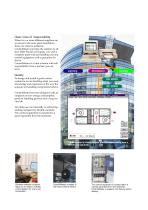 Clear lines of responsibility When two or more different suppliers are involved in the same plant installation there can often be problems. ControlMaster provides the solution to all that. Fläkt Woods will supply you with a complete plant with air handling unit and control equipment with a guarantee for the lot. ControlMaster is a total solution with full responsibility from a partner you can trust. Quality To design and install a good control system for an air handling plant you need knowledge and experience of the way the separate air handling components behave. EU 2000 ControlMaster can...
Open the catalog to page 3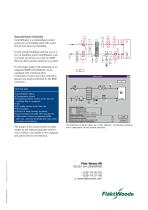 Standardised flexibility! ControlMaster is a standardised control system for air handling units with a solution for just about any building. For the smaller building with just one or a few air handling units ControlMaster is all you need. If you have no need of a BMS then no other controls contractor is needed. For the larger project with demands for an integrated BMS ControlMaster can be equipped with communication. Connection of each unit to the network is quickly and easily performed by the BMS contractor. Technical data ControlMaster offers: • Temperature control • Frequency inverter...
Open the catalog to page 4
All Fläkt Woods Group catalogs and technical brochures

Compare up to 10 products