Catalogs

>

TOPMASTER with CURO ™ controller
Catalog excerpts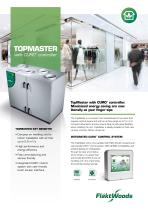 TOPMASTER with CURO™ controller TopMaster with CURO™ controller. Maximised energy saving are now literally at your nger tips TOPMASTER KEY BENEFITS • Compact air handling unit for indoor installation with air ow up to 0,5 m3/s • High performance and energy efciency • Fast commissioning and service friendly • Integrated CURO™ control system with user friendly touch screen interface The TopMaster is a compact unit manufactured in two sizes that requires minimal space and with an air ow range up to 0,5 m3/s. Compact dimensions and low sound data provide great exibility when installing the unit. TopMaster is ideally suitable for child care centres, schools, ofces, shops etc. INTEGRATED CURO™ CONTROL SYSTEM The TopMaster unit is now supplied with Fläkt Woods' powerful and user-friendly CURO™ control system. With full BMS-compatibility, and simple interface for conguration through its clear and intuitive touch screen, it is easier than ever to take full control of your air handling unit, thus maximising the potential energy savings.
Open the catalog to page 1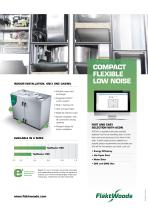 COMPACT FLEXIBLE LOW NOISE INDOOR INSTALLATION, ONLY ONE CASING • Efcient rotary heat exchanger • Integrated CURO™ control system • Built-in heating coil • Ultra compact lters • Radial fan with EC-motor • Simple installation with all connections facing upwards • Pleasant design for indoor installation FAST AND EASY SELECTION WITH ACON ACON is a powerful and easy product selection tool for air handling units. It is the best and most advanced of its kind on the web. It offers rapid product selection to specic project requirements and provides you with all the information you need, such as: •...
Open the catalog to page 2
All Fläkt Woods Group catalogs and technical brochures

Compare up to 10 products