Catalogs

>

FC3446-Speciality Blade
Catalog excerpts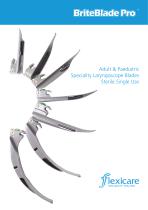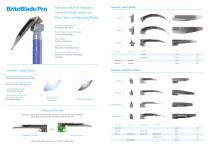 Speciality Adult & Paediatric Sterile All Metal Single Use Fibre Optic Laryngoscope Blades All Metal One-piece Blade No breakable plastic block. Reduced Shoulder and Block Height Less risk of dental damage. Sterile Packed Free from contamination. Rounded Tip and Edges Reduces risk of soft tissue damage. Non-touch Hinge Mechanism Protection from blade tip contaminating the handle. Speciality Adult Blades Polio Kessel Phillips POLIO KESSEL PHILLIPS Excellent Visualisation Reduced Shoulder and Block Height Improved access and greater field of view. Symmetrical Focussed Light...
Open the catalog to page 2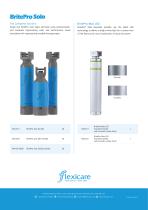 The Complete Solution Single Use BritePro Solo helps eliminate cross-contamination, and eradicate reprocessing costs and performance issues associated with reprocessing reusable laryngoscopes. BritePro Max LED BritePro® Max Reusable Handles use the latest LED technology to deliver a bright white light for a clearer view of the larynx and a true visualisation of tissue structures. 040-309 BritePro Solo Mini Handle 20 with knurled surface finish BritePro Max LED 040-821 Standard Handle 1 with smooth surface finish 040-03-0000 BritePro Solo Stubby Handle 20 Flexicare Medical...
Open the catalog to page 3
All Flexicare Medical catalogs and technical brochures

Archived catalogs
Compare up to 10 products