Catalogs

>

FCOT
Catalog excerpts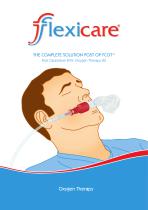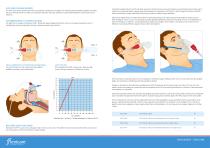 40% FIXED OXYGEN DELIVERY The 40% (red) venturi delivers the xed concentration irrespective of oxygen ow rate and patient breathing pattern providing the recommended level of oxygen concentration helping in fast post operative wound healing therefore reducing the risk of infection. NO REBREATHING or OXYGEN DILUTION The high ow of oxygen enriched air (40%) ushes the expired gases through the vents on the bag eliminating the risk of rebreathing and during inspiration the bag collapses preventing any dilution. VISUAL OBSERVATION OF SPONTANEOUS BREATHING The mist formation on the T-piece and...
Open the catalog to page 2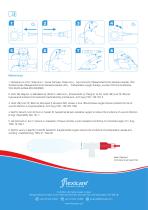 1. Nishyama Jun Ichi I (Tokai Univ.) Suzuki Toshiyasu (Tokai Univ.) Fujii Hiromoto (Okayama Red Cross General Hospital, JPN) Tokioka Hiroaki (Okayama Red Cross General Hospital, JPN), Postoperative oxygen therapy, Journal of Clinical Anesthesia, 2. Allen DB, Maguire JJ, Mahdavian M, Wicke C, Marcocci L, Scheuenstuhl H, Chang M, Le AX, Hopf HW, Hunt TK. Wound hypoxia and acidosis limit neutrophil bacterial killing mechanisms. Arch Surg 1997; 132: 991-6 3. Hopf HW, Hunt TK, West JM, Blomquist P, Goodson WH, Jensen A et al. Wound tissue oxygen tension predicts the risk of wound infection in...
Open the catalog to page 3
All Flexicare Medical catalogs and technical brochures

Archived catalogs
Compare up to 10 products