Catalogs

>

Mortuary Refrigerators
Catalog excerpts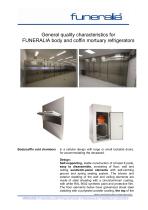 General quality characteristics for FUNERALIA body and coffin mortuary refrigerators Body/coffin cold chambers in a cellular design with large or small lockable doors, Self-supporting, stable construction of at least 8 parts, easy to disassemble, consisting of floor, wall and ceiling sandwich-panel elements with self-centring groove and spring sealing system. The interior and exterior cladding of the wall and ceiling elements are made of steel sheeting with a zinc/aluminium coating, with white RAL 9002 synthetic paint and protective film. The floor elements below have galvanized sheet steel cladding with a polyester powder coating, the top of the (design or specifications subject to change without notice) FUNERALIA GmbH - B le nr. a re^l-ts+rc-] B-e. 14 - 97D8Q Wurzburg - PaeTTad-i 552S - V70D5 Wurzhurg - Ttsl +49 931 /29VD30 - Fax: +49 931/3W0315
Open the catalog to page 1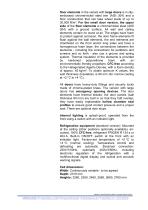 floor elements in the variant with large doors is in slip- embossed chrome/nickel steel trim (AISI 304) and a floor construction that can take wheel loads of up to 30,000 N/m2. For the small door version, the upper side of the floor elements is chrome/nickel steel (AISI 304) with a ground surface. All wall and ceiling elements contain no wood at all. The edges have foam to protect against corrosion, the door frame elements fit flush against the wall elements, the end elements are chamfered on the front and/or long sides and have a homogenous foam layer; the connections between the elements...
Open the catalog to page 2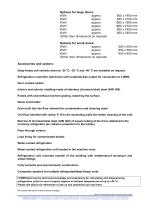 Options for large doors: (Other door dimensions on request) Options for small doors: (Other door dimensions on request) Deep-freeze cell variants down to -20 °C, -30 °C and -40 °C are available on request. Refrigeration controller (electronic) with potential-free output for connection to a BMS. Door contact switch Interior and exterior cladding made of stainless (chrome/nickel) steel (AISI 304) Panels with and without machine grating, matching the surface Name card holder Drain built into the floor element for condensation and cleaning water Cell floor blended with radius R 10 to the...
Open the catalog to page 3
All Funeralia catalogs and technical brochures

Compare up to 10 products