Catalogs

>

Oxyneedling and synthesis of elastic and collagen fibers
Catalog excerpts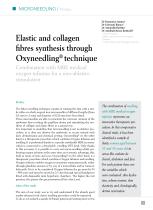 MICRONEEDLING / Therapy Dr Domenico Amuso1 Dr Giovanni Bianco2 Dr Antonello Battista3 Dr Annibale Renzo Botticelli4 Elastic and collagen fibres synthesis through Oxyneedling® technique General surgeon plastic and reconstructive surgery 3 Surgeon 4 retired Professor of Pathologic Anatomy 1 2 Combination with MBE medical oxygen infusion for a non-ablative stimulation Preface The Micro-needling technique consists in treating the skin with a sterile roller on which surgical iron microneedles of different lengths (from 0,5 mm to 2 mm) and diameter of 0,20 mm have been fitted. These microneedles...
Open the catalog to page 2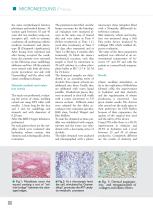 MICRONEEDLING / Therapy the same morphological features, phototype and medical history : 30 women aged between 35 and 45 years old, non smokers, using contraceptive pill , with no systemic conditions, all undergoing esthetic medicine treatments and phototype III (Fitzpatrik classification). After having been informed and after having accepted the conditions, the patients were retreated in the following areas: saddlebags, abdomen and face. All the patients were treated with both the therapeutic procedures: one side with Oxyneedling® and the other with classic needling technique. microscope...
Open the catalog to page 3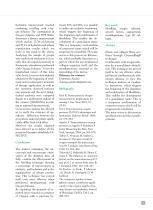 hydration improvement reached combining needling with Oxygen Infusion: The combination of Oxygen Infusion and DTS Roller determine a distinct improvement which reaches 55,3% of elasticity and 39,4% of hydration and sebum reproduction results which are more or less equal to the others. Analyzing the sample of people who underwent treatment it is notable that all respond positively to therapeutic stimulation performed with Oxygen Infusion. Given the longitudinal nature of this data, value levels (cross-section analysis) obtained at the beginning of treatment and in subsequent moments of...
Open the catalog to page 4
All G. Trading Company catalogs and technical brochures

Compare up to 10 products