Catalogs

>

DentaSOAK®
Catalog excerpts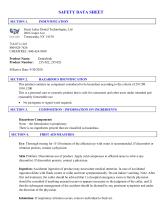 SAFETY DATA SHEET SECTION 1. Great Lakes Dental Technologies, Ltd 200 Cooper Ave Tonawanda, NY 14150 716-871-1161 800-828-7626 CHEMTREC: 800-424-9300 Product Name: Product Number: Effective Date: 9/30/2020 SECTION 2. HAZARDOUS IDENTIFICATION This product contains no component considered to be hazardous according to the criteria of 29 CFR 1910.1200 This is a personal care or cosmetic product that is safe for consumers and other users under intended and reasonably foreseeable use. • No pictogram or signal word required. COMPOSITION / INFORMATION ON INGREDIENTS Hazardous Components None – the formulation is proprietary. There is no ingredients present that are classified as hazardous. SECTION 4. Eye: Thorough rinsing for 15-20 minutes of the affected eye with water is recommended. If discomfort or irritation persists, contact a physician. Skin Problem: Discontinue use of product. Apply cold compresses to affected areas to relieve any discomfort. If discomfort persists, contact a physician. Ingestion: Accidental ingestion of product may necessitate medical attention. In case of accidental ingestion dilute with fluids (water or milk) and treat symptomatically. Do not induce vomiting. Note: After first aid treatment, the caller should be advised that 1) a hospital emergency room or family physician should be consulted if anything unusual occurs or appears necessary in the judgment of the caller, and 2) that the subsequent management of the accident should be dictated by any persistent symptoms and under the direction of the physician. Inhalation: If respiratory irritation occurs, remove individual to fresh air
Open the catalog to page 1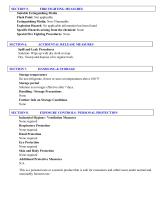 SECTION 5. FIRE FIGHTING MEASURES Suitable Extinguishing Media Flash Point: Not applicable Extinguishing Media: Non- Flammable Explosion Hazard: No applicable information has been found Specific Hazards arising from the chemical: None Special Fire Fighting Procedures: None SECTION 6. ACCIDENTAL RELEASE MEASURES Spill and Leak Procedures Solution- Wipe up with dry cloth or mop Dry- Sweep and dispose of in regular trash. HANDLING & STORAGE Storage temperature Do not refrigerate, freeze or store at temperatures above 100 ºF Storage period Solution is no longer effective after 7 days. Handling...
Open the catalog to page 2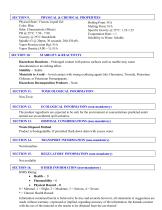 SECTION 9. PHYSICAL & CHEMICAL PROPERTIES Physical State: Viscous Liquid Gel Boiling Point: N/A Color: Blue Melting Point: N/A Odor: Characteristic (Minty) Specific Gravity @ 25°C: 1.22-1.25 PH @ 25°C: 7.50 - 7.90 Evaportation Rate: >.1 Visocity @ 25°C Brookfield Solubility in Water: Soluble Spindle #3 @ 20rpm, 30 seconds: 200-350 cPs Vapor Pressure (mm Hg): N/A Vapor Density (AIR = 1): N/A SECTION 10. STABILITY & REACTIVITY Hazardous Reactions – Prolonged contact with porous surfaces such as marble may cause discoloration or an etching effect. Stability – Stable Materials to Avoid – Avoid...
Open the catalog to page 3
All Great Lakes Dental Technologies catalogs and technical brochures

Compare up to 10 products