Catalogs

>

K-MOD
Catalog excerpts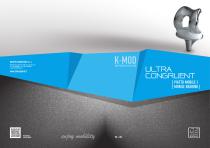 GRUPPO BIOIMPIANTI S.r.l. 20068 Peschiera Borromeo (MI) Italy - Via Liguria, 28 Tel. +39 02.51650371 - Fax +39 02.51650393 e-mail: info@bioimpianti.it K-MOD KNEE-MODULAR SOLUTION ULTRA CONGRUENT [ PIATTO MOBILE ] [ MOBILE BEARING ]
Open the catalog to page 1
UC - Ultra-Congruent [ PIATTO MOBILE ] [ MOBILE BEARING ] KNEE-MODULAR SOLUTION K-MOD è il nuovo sistema di protesi primaria totale di ginocchio caratterizzato dalla modularità delle sue componenti. Un sistema progettato per minimizzare le complicazioni come l'usura, l'instabilità e il rischio di dislocazione patellare. Dotato di una vasta gamma di soluzioni, K-MOD si adatta perfettamente alle esigenze specifiche di ogni paziente e all'approccio del singolo chirurgo. K-MOD is the new total primary knee system characterized by the modularity of its components. A system designed to minimize...
Open the catalog to page 2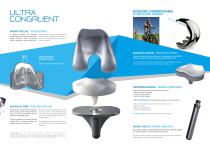 ULTRA CONGRUENT RIACQUISTARE IL MOVIMENTO NATURALE RESTORE NATURAL MOVEMENT 4° 4° IMPRONTA TROCLEARE TROCHLEAR GROOVE La scanalatura fisiologica della componente femorale favorisce una corretta cinematica femoropatellare, riducendo il rischio di dislocazione patellare e migliorando i risultati a lungo termine. The physiological groove of the femoral component enables optimum patellofemoral kinematics to reduce the risk of patellar dislocation and improve long-term outcomes. RIDUZIONE DEL NOTCHING REDUCTION OF NOTCHING 6° GRUPPO BIOIMPIANTI S.r.l. 20068 Peschiera Borromeo (MI) Italy - Via...
Open the catalog to page 3
All Gruppo Bioimpianti catalogs and technical brochures
Compare up to 10 products