Catalogs

>

Electric Lifting and Vertical Lifting Table LGT-9101
Catalog excerpts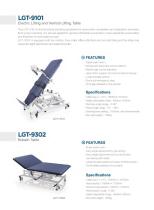 LGT-9101 Electric Lifting and Vertical Lifting Table The LGT-9101 is the functional standing assistance for neuromotor revalidation and adaptation exercises from lying to standing. It is also be applied for general orthostatic examination, more specifically examination and treatment of vasovagal syncope. LGT-9101 is equipped with two motors. One motor offers effortless and smooth tilting and the other one supports height adjustment and patient transfer. © FEATURES • Super quiet motor; • Manual and Automatic control options; • Pedal Angle can be adjusted; • Upper limbs support, for hand...
Open the catalog to page 2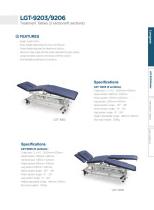 LGT-9203/9206Treatment Tables (3 sections/6 sections) © FEATURES • Super quiet motor; • Easy height adjustment by foot control bar; • Waist height adjusted by electronic button; • Head and leg angle can be easily adjusted by gas spring • Large lockable castors and easy to lift the castor; • Comfortable padding and cushions. Specifications LGT- 9203 (3 sections) • Table size ( L * W): 2020mm x 630mm • Head section: 480mm x 630mm • Waist section: 560mm x 630mm • Leg section: 930mm x 630mm • Head section angle: -25° -46° • Waist section angle:: 0° -20° • Leg section angle: 0° -90° • Height...
Open the catalog to page 3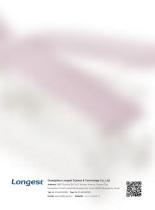 Guangzhou Longest Science & Technology Co., Ltd. Address: 5&6F, Building B4, No.11, Kaiyuan Avenue, Science City, Guangzhou Hi-tech Industrial Development Zone, 510530 Guangzhou, China Tel: 86-20-66353999 Fax: 86-20-66353920 E-mail: export@longest.cn Website: www.longest.cn
Open the catalog to page 4
All Guangzhou Longest Science & Technology catalogs and technical brochures

Compare up to 10 products