Catalogs

>

STERY CUP
Catalog excerpts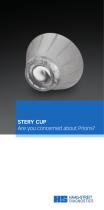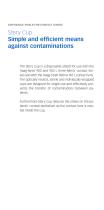 DISPOSABLE SHIELD FOR CONTACT LENSES Stery Cup Simple and efficient means against contaminations The Stery Cup is a disposable shield for use with the Haag-Streit 903 and 903 L three-Mirror contact lenses and with the Haag-Streit Retina 145 L contact lens. The optically neutral, sterile and individually wrapped cups are designed for single use and effectively prevents the transfer of contaminations between patients. Furthermore Stery Cup reduces the stress on the patients' corneal epithelium as the contact lens is rotated inside the cup.
Open the catalog to page 2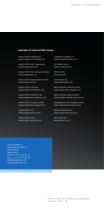 Members of HAAG-STREIT Group HAAG-STREIT Holding AG CLEMENT CLARKE Ltd. www.haag-streit-holding.comwww.clement-clarke.com HAAG-STREIT AG, Diagnostics HS DOMS GmbH www.haag-streit.comwww.hs-doms.com HAAG-STREIT AG, Verkauf Schweiz IPRO GmbH www.haag-streit.chwww.ipro.de HAAG-STREIT Deutschland GmbH John Weiss Ltd. www.haag-streit.dewww.johnweiss.com HAAG-STREIT Far East Moller-Wedel GmbH & Co KG www.haag-streit-fareast.comwww.haag-streit-surgical.com HAAG-STREIT Medtech AG Moller-Wedel Optical GmbH www.haag-streit-medtech.comwww.moeller-wedel-optical.com HAAG-STREIT Surgical GmbH OptoMedical...
Open the catalog to page 4
All Haag-Streit Diagnostics catalogs and technical brochures

Compare up to 10 products