Catalogs

>

TONOSAFE
Catalog excerpts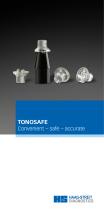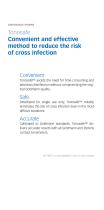 DISPOSABLE PRISMS Tonosafe Convenient and effective method to reduce the risk of cross infection Convenient Tonosafe™ avoids the need for time-consuming and laborious disinfection without compromising the original Goldmann quality. Safe Developed for single use only, Tonosafe™ reliably eliminates the risk of cross infection even in the most difficult situations. Accurate Calibrated to Goldmann standards, Tonosafe™ delivers accurate results with all Goldmann and Perkins contact tonometers.
Open the catalog to page 2
Members of HAAG-STREIT Group HAAG-STREIT Holding AG CLEMENT CLARKE Ltd. www.haag-streit-holding.comwww.clement-clarke.com HAAG-STREIT AG, Diagnostics HS DOMS GmbH www.haag-streit.comwww.hs-doms.com HAAG-STREIT AG, Verkauf Schweiz IPRO GmbH www.haag-streit.chwww.ipro.de HAAG-STREIT Deutschland GmbH John Weiss Ltd. www.haag-streit.dewww.johnweiss.com HAAG-STREIT Far East Moller-Wedel GmbH & Co KG www.haag-streit-fareast.comwww.haag-streit-surgical.com HAAG-STREIT Medtech AG Moller-Wedel Optical GmbH www.haag-streit-medtech.comwww.moeller-wedel-optical.com HAAG-STREIT Surgical GmbH OptoMedical...
Open the catalog to page 4
All Haag-Streit Diagnostics catalogs and technical brochures

Compare up to 10 products