Catalogs

>

Flyer TOCULAR
Catalog excerpts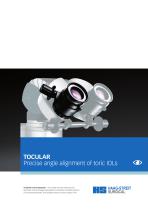 TOCULAR Precise angle alignment of toric IOLs Tradition and innovation – Since 1858 visionary thinking and a fascination with technology have guided us to develop innovative products of outstanding reliability: Anticipating trends to improve quality of life.
Open the catalog to page 1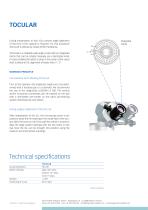 TOCULAR During implantation of toric IOLs precise angle alignment of the lens in the capsule is required. For this procedure TOCULAR is offered by HAAG-STREIT SURGICAL. Integrated reticle TOCULAR is a rotatable wide angle ocular with an integrated reticle that can be rotated manually via a sterilizable knob. For best visibility the reticle is clear in the center of the visual field. It allows an IOL alignment of better than +/- 2°. WORKING PRINCIPLE Pre-operative work: Marking of the eye Prior to the operation the astigmatic angle has to be determined with a keratoscope or a biometer. We...
Open the catalog to page 2
All Haag-Streit Surgical catalogs and technical brochures
Compare up to 10 products