Catalogs

>

HACH WASTEWATER SOLUTIONS FOR FOOD & DAIRY
Catalog excerpts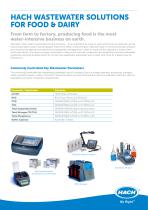 HACH WASTEWATER SOLUTIONS FOR FOOD & DAIRY From farm to factory, producing food is the most water-intensive business on earth. Abundant, clean water is essential to food processing - as an ingredient, as a way to clean and move raw materials, and as the principal agent used in sanitising plant machinery. Water is becoming an important topic in the food and dairy industry as companies are paying more attention to wastewater management in order to meet stricter regulations, protect their social reputations, and reduce energy consumption. Many multi-national companies have established internal wastewater guidelines requiring all global plants to monitor key wastewater parameters and comply with limits by measuring at set frequencies. Commonly Controlled Key Wastewater Parameters The commonly controlled key wastewater parameters are pH, nutrients (such as oxygen demand, phosphate, nitrogen), solids, and total organic carbon. The Hach® solutions below can help food and dairy plants worldwide meet their internal regulations and local compliance requirements.
Open the catalog to page 1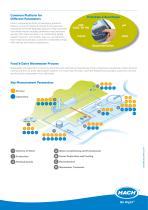 Common Platform for Different Parameters Portables & Benchtops Hach's complete portfolio of laboratory products feature a common platform design for an easy user experience and multi-language support to help customers worldwide master multiple parameter measurements quickly. With expert answers, an outstanding global support network, and reliable, easy-to-use solutions, Hach helps food and dairy customers worldwide comply with internal and external regulations. Suspended Solids Food & Dairy Wastewater Process Wastewater management is a journey that starts with laboratory measurement then...
Open the catalog to page 2
All HACH LANGE Europe catalogs and technical brochures

Compare up to 10 products