Catalogs

>

Improving Quality Control for Chemical Production with the Hach Lab Family
Catalog excerpts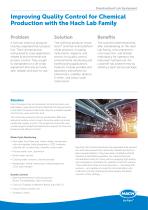 Problem A German chemical producer recently expanded their product line. Their central lab was restructured to cover applications related to environmental and product control. They sought to standardise on a set of lab equipment that was accurate, safe, reliable, and easy-to-use. Solution The chemical producer chose Hach® and their entire platform of lab products, including instruments, reagents, and service, for quality control, environmental monitoring and boiler/cooling applications. Products include portable and laboratory instruments for photometry, turbidity, titration, e-chem, and colour scale instruments. Benefits The customer determined that, after standardising on the Hach Lab Family, error prevention, cost reduction, and failsafe redundancy for operators has improved. Furthermore, the customer has saved money by utilising a Hach service package. Situation One of Europe's top-ten producers of ammonia and urea specializes in agrochemical and industrial chemical products. In the field of industrial chemicals, they are a reliable supplier of ammonia, urea, and nitric acid. This chemical producer has two central labs: R&D and analytical routine, which covers the entire water cycle and production quality control. The analytical routine lab uses a wide range of analytical methods for analysis of chemical products and effluent control. Water Cycle Monitoring • Raw water from Elbe river: nitrite, nitrate, ammonium, ortho-phosphate, total phosphorus, COD, hardness, chloride, pH, conductivity, turbidity, colour scale • Process water: iron, aluminium • Boiler water: silicate • Cooling water: chlorine, chlorine dioxide • Wastewater: nitrate, ammonium, total phosphorus, COD, total nitrogen Quality Control • Spectrophotometry in urea production: Biuret, Formaldehyde, Urea, Ammonia • Colour & Turbidity in Melamin Resins (up to 80 °C): • Colour Hazen number <10 • Turbidity <3 NTU Recently, the chemical producer has expanded their product line and restructured their central lab. Satellite production labs merged together. They have been certified by DAkkS (Deutsche Akkreditierungsstelle, the national German accreditation body) for three years by applying high quality and competency standards for operators and shift workers. This certification attests that all operators - including shift workers - are capable of using the instrumentation and methods correctly. Maintaining these quality standards requires a clear strategy.
Open the catalog to page 1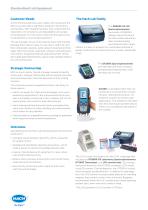 Standardised Lab Equipment Customer Needs At this chemical plant accuracy, safety, and routine are the keys to success after a significant expansion of products and facilities. With multiple facilities, they understand the importance of consistency and repeatability across labs and employees. For this reason, they took the opportunity to standardise on a set of lab equipment. The lab manager strives to provide his team with the best package that's safe and easy-to-use, day or night. As such, their central labs required a wide range of analytical technologies, field instruments, automatic...
Open the catalog to page 2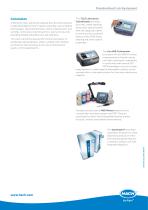 Conclusion Utilising the Hach Lab Family allowed the chemical producer to take advantage of Hach's industry expertise, such as optical technologies, spectrophotometry, colour measurement, and turbidity, while also preventing errors, saving money and providing failsafe redundancy for lab operators. The Hach Lab Family allowed the chemical producer to standardise lab equipment, utilise a unified user interface and improve lab processes across environmental and quality control applications. The TL23 Laboratory Turbidimeter provides accurate, stable readings using ratio optical system with...
Open the catalog to page 3
All HACH LANGE Europe catalogs and technical brochures

Compare up to 10 products