Catalogs

>

Surround
Catalog excerpts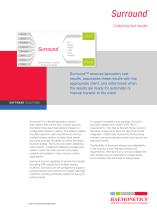 Collecting test results Abbott Chiron Fax Modem Network E-Mail Serial Print/Mail Hamilton Immucor Olympus Ortho Roche Others Performs manual or automatic transfer of text results Surround™ receives laboratory test results, associates these results with the appropriate client, and determines when the results are ready for automatic or manual transfer to the client Software Solutions Surround™ is a flexible laboratory system that collects test results from multiple sources and determines test interpretations based on configurable decision-making. The system collates the data based on client requirements and has multiple transfer options to meet client needs. Surround provides the ability to review the status of active testing. The Surround system database uses Oracle®, a relational database management system, which has been proven to be highly scalable and reliable in many mission-critical applications. Surround has the capability to receive test results (including NAT results) from multiple testing locations. Surround can be configured to support optional testing and it allows for multiple reporting methods, including automatic email and faxing of testing results. 1 Data on file at Haemonetics [MKO102362] To support traceability and tracking, Surround has been designed to meet21 CFR Part 11 requirements.1 The Test of Record Parser function has been enhanced to allow for rapid instrument integration. Additionally, Surround's NAT pooling interface can automatically convert pool results into individual results. The flexibility of Surround allows easy adaptability to the industry's ever changing needs and requirements. With Surround, we have created the best solution for your laboratory's needs today – and a solution that will adapt to future needs.
Open the catalog to page 1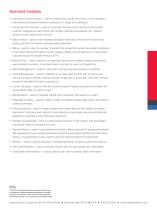 Surround modules Laboratory Communication – used to retrieve test results from one or more laboratory instruments and determine when a sample ID is ready to be released. Automated Test Transfer – used for automatic transfer of test results via the transfer method configured for each client. Six transfer methods are available: fax, modem, network, email, serial, and print/mail. Batch Viewer – used to view detailed test batch information retrieved from laboratory testing, perform QA release, and generate worksheets. Billing – used to view the number of sample IDs whose final results have been...
Open the catalog to page 2
All HAEMONETICS catalogs and technical brochures

Archived catalogs

Compare up to 10 products