Catalogs

>

TEG Functional Fibrinogen - Whole blood fibrinogen monitoring assay
Catalog excerpts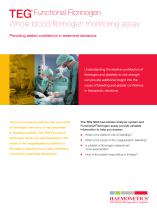 Whole blood fibrinogen monitoring assay Providing added confidence in treatment decisions Understanding the relative contribution of fibrinogen and platelets to clot strength can provide additional insight into the cause of bleeding and greater confidence in therapeutic decisions. There is increasing evidence that correction of fibrinogen deficiency is very important in bleeding patients. The TEG Functional Fibrinogen assay can help determine if the origin of the coagulopathy is platelets or fibrinogen, allowing you to tailor therapy to correct the underlying dysfunction. The TEG 5000 hemostasis analyzer system and Functional Fibrinogen assay provide valuable information to help you answer: ■■ What is the patient's risk of bleeding? What is the cause of the coagulopathic bleeding? Is platelet or fibrinogen replacement more appropriate?
Open the catalog to page 1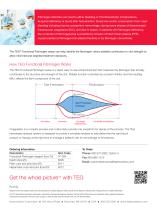 Fibrinogen disorders can lead to either bleeding or thromboembolic complications. Acquired deficiency is found after hemodilution, blood loss and/or consumption from major bleeding including trauma, postpartum hemorrhage, during some phases of disseminated intravascular coagulation (DIC), and also in sepsis. In patients with fibrinogen deficiency, the correction of fibrinogenemia is possible by infusion of fresh frozen plasma (FFP), cryoprecipitate (a fibrinogen-rich plasma fraction) or by fibrinogen concentrate. The TEG® Functional Fibrinogen assay can help identify the fibrinogen versus...
Open the catalog to page 2
All HAEMONETICS catalogs and technical brochures

Archived catalogs

Compare up to 10 products