Catalogs

>

TEG Global Hemostasis Assay
Catalog excerpts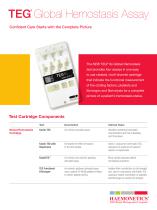 Global Hemostasis Assay Confident Care Starts with the Complete Picture The NEW TEG® 6s Global Hemostasis test provides four assays in one easy to use citrated, multi-channel cartridge that indicate the functional measurement of the clotting factors, platelets and fibrinogen and fibrinolysis for a complete picture of a patient's hemostasis status. Test Cartridge Components Global Hemostasis Kaolin TEG An intrinsic activated assay. Cartridge Clinical Value Identifies underlying hemostatic characteristics and risk of bleeding and thrombosis. Kaolin TEG with Eliminates the effect of heparin Used in conjunction with Kaolin TEG, Heparinase in the test sample. assesses the presence of systemic heparin or heparinoids. RapidTEG™ An intrinsic and extrinsic pathway activated assay. More rapidly assesses patient hemostasis properties. TEG Functional An extrinsic pathway activated assay Isolates fibrin contribution to clot strength Fibrinogen uses a potent GP IIb/IIIa platelet inhibitor and, used in conjunction with Kaolin TEG, to restrict platelet activity. assesses relative contribution of platelets and fibrinogen to overall clot strength.
Open the catalog to page 1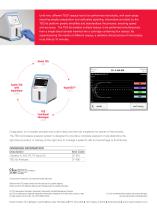 Until now, different TEG® assays had to be performed individually, with each assay requiring lengthy preparation and calibrated pipetting. Automation provided by the TEG 6s platform greatly simplifies and standardizes the process, ensuring speed and accuracy. The TEG 6s enables multiple assays to be performed simultaneously from a single blood sample inserted into a cartridge containing four assays. By superimposing the results of different assays, a detailed clinical picture of hemostasis Coagulation is a complex process and routine tests provide only snapshots for pieces of the process....
Open the catalog to page 2
All HAEMONETICS catalogs and technical brochures

Archived catalogs

Compare up to 10 products