Catalogs

>

SPE100/SPE400
Catalog excerpts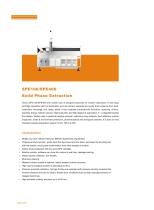 SPE100/SPE400 Solid Phase Extraction Hanon SPE100/SPE400 with mobile rack is designed specially for modern laboratory. It has large cartridge capacities with full automation and can extract, separate and purify trace organics from food, medicines, beverage, soil, water, blood. It can complete automatically Activation, sampling, elution, leaching, drying, metered volume. High production and high degree of automation; it' s integrated sealing foot design. Widely used in pesticide residue analysis, veterinary drug residues, food additives, judicial inspection, water & environment protection, pharmaceutical and biological samples. It is also an very important sample preparation system for GC, HPLC or MS. Characteristics . Modify your own method meet your different experiment requirement. • Probe level track function, probe track the liquid level and low down, decrease the touching part with the sample, avoid cross contamination from other sample or solution. • Collect multi-component with the same SPE cartridge. . Solution monitor, software can show the volume in real time. Leakage warning. . Waste solution collection, eco-friendly. . Multi-way cleaning. . Metered volume module is optional, realize metered volume accuracy. . High volume sampling module is optional(up to 20L). • Pressure overload protection, Syringe Pumps are equipped with pressure sensing modules that monitor pressure and can be used to handle error conditions such as high cartridge pressure or clogged liquid lines. . High precision locating, accuracy up to ±0.01 mm.
Open the catalog to page 1
Could service. Software provide unique update and download method from our web-server, share your method worldwide or internal sharing. Integrated metered volume module, metered volume sample after extraction. It effectively improve the production and short time of sample preparation. Powerful software workstation. User-friendly graphical interface minimizes the learning curve while maximizing efficiency. The application run screen provides complete control over your run; from set up to application run, to simulation and the modification of your method. Provide powerful...
Open the catalog to page 2
All Hanon Instruments catalogs and technical brochures
Compare up to 10 products