Catalogs

>

Nucleic Acid Extractor/Hero 96
Catalog excerpts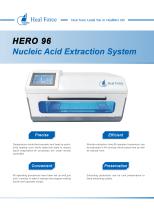 Heal Force Leads You to Healthier Life Temperature-controlled precisely and heat up quickly.By heating /cool whole deep-well plate to reduce liquid evaporation.All processes are under strictly controlled. Shorten-extraction time,96 samples (maximum) can be extracted in 40 minutes,which saves time as well as manual work. Preservation All operating procedures have been set up well,just Extracting production can be cool preservation to click "running" to start.lt reduces the program setting keep extracting quality, hurdle and operates simply.
Open the catalog to page 1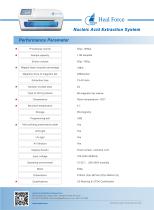 Nucleic Acid Extraction System Performance Parameter Processing volume 50pL-1000pL 1-96 samples 50pL-150pL >98% 4800us/bar 15-40 mins six 96-magnetic bar sleeve Room temperature—120 C 4'C 99 programs USB Yes Yes Yes Yes Touch screen ,coloured LCD 100-220V,50/60Hz 15-32 C, 20%-80% humidity 50kg 810mm (D)x 487mm (W)x 458mm (H) CE Marking & CFDA Certification Heal Force Bio-Meditech Holdings Group 6788 Songze Road, Qingpu District, Shanghai 201706, RR. China Tel: +86 21 62728646, Email: export@healforce.com, Fax: +86 21 62710529 Information is subject to change without prior notice.
Open the catalog to page 2
All Heal Force catalogs and technical brochures

Archived catalogs

Compare up to 10 products