Catalogs

>

Hercuvan

>

GS-1602/3202 Minica Personal Thermal Cycler
Catalog excerpts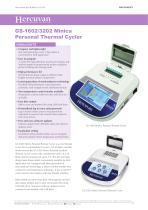 GS-1602/3202 Minica Personal Thermal Cycler • Compact and lightweight Slim and light design (only 3.2 kg) makes it convenient for field application • Easy to program 5 inches TFT high-definition touchscreen display and intuitive graphical programming makes navigation, protocol editing and viewing easier • High performance lid The flexible lid design adapts to different tube heights to ensure proper compression • Latest generation of semiconductor technology Excellent PCR performance and temperature uniformity with multiple evenly distributed sensors • Two temperature control modes available Temperature control modes for tube and block are available • Easy data output Able to save and transfer files using USB flash drive • Personalized log in users and passwords Log in feature allows users to set password for individual account to fully monitor their protocols with more privacy • Free and easy software updates Software update from USB flash makes the software updates easier • Incubation setting Incubation setting module allows users to program desired incubation block temperature and hold time GS-1602 Minica Personal Thermal Cycler is a mini thermal cycler that accommodates 16-well x 0.2 ml tubes. Another model variant, the GS-3202 Minica Personal Gradient Thermal Cycler comes with a standard 32-well x 0.2 ml block and fast ramping rate up to 5°C. The slim and light design make these models conveniently portable for field application use. Equipped with latest generation of semiconductor technology, it offers excellent module heat conduction and temperature uniformity. It has 5-inch TFT colour touch screen display with user-friendly interface. Both models can store more than 100 programs and easy data output enables user to save and transfer files using USB flash drive. Moreover, software updates can be conducted conveniently with USB flash. For research use only. Not for use in diagnostic purposes. All images are for illustration purpose only, actual products might differ from the pictures above. Subject to technical changes. Hercuvan Lab Systems E • info@hercuvan.com W • www.hercuvan.com B hercuvan ffl hercuvan 1/2
Open the catalog to page 1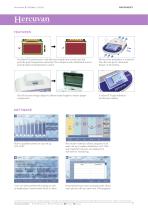 Gene Series THERMAL CYCLER Excellent PCR performance with efficient module heat conduction that provides great temperature uniformity. The multiple evenly distributed sensors provide improved temperature control. Efficient heat dissipation is achieved from the one-piece aluminium design on the bottom. The lid structure design adapts to different tube heights to ensure proper compression. 5 inches TFT high-definition touchscreen display. Built-in gradient system for easy set up (GS-3202). The intuitive interface allows programs to be easily set up. Gradient distribution (GS-3202) and...
Open the catalog to page 2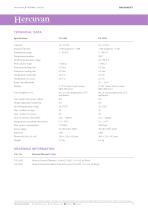 Gene SeriesTHERMAL CYCLER TECHNICAL DATA Specifications Capacity Program memory Temperature range Temperature gradient Gradient temperature range PCR volume range Maximum heating rate Maximum cooling rate Temperature uniformity Temperature accuracy Ramp rate adjustable Display Cool samples to 4°C Auto restart after power failure Height adjustable heated lid Hot lid temperature range Max. number of steps Max. number of cycles Time increment/ decrement Temperature increment/ decrement Max. power consumption Input voltage Interfaces Dimension (W x D x H) Weight GS-1602 Minica Personal Thermal...
Open the catalog to page 3
All Hercuvan catalogs and technical brochures

Compare up to 10 products