Catalogs

>

Hercuvan

>

SymphonyDGGE Denaturing Gradient Gel Electrophoresis
Catalog excerpts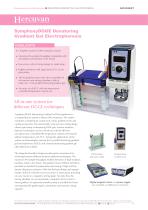 Electroprophoresis & Blotting Series DENATURING GRADIENT GEL ELECTROPHORESIS SymphonyDGGE Denaturing Gradient Gel Electrophoresis HIGHLIGHTS Complete system for DNA mutation analysis Maximum 96-sample throughput compatible with microplates and thermal cycler blocks Four-screw vertical clamp design for rapid setup Higher resolution with large format 20 x 20 cm glass plates 100 ml gradient mixer with valve-controlled 50 ml reservoir and mixing chambers, able to make two 1 mm parallel denaturing gradient gels Accuracy of ±0.02°C with microprocessorcontrolled temperature control unit All-in-one system for different DGGE techniques SymphonyDGGE Denaturing Gradient Gel Electrophoresis is a comprehensive system to detect DNA mutations. The system comprises a temperature control unit, stirrer, gradient mixer and casting accessories. The user-friendly vertical screw-clamp design allows rapid setup of denaturing PAGE gels. Various mutation detection techniques can be carried out with the efficient microprocessor controlled PID temperature control unit between ambient temperature and 70°C. Among the applications of the system are heteroduplex analysis (HA), parallel denaturing gradient gel electrophoresis (DGGE) and constant denaturing gradient gel electrophoresis (CDGE). The integrated modular design provides great convenience for switching between different mutation detection techniques. The maximum 96-sample throughput enables detection of high mutation numbers within a few hours. The gradient mixer, SDGGE-GM100 is provided as standard for preparation and mixing of high and low density denaturant solutions. With the flat-base design and support handle, SDGGE- GM100 can be secured to a retort stand, providing an easy mount on a magnetic stirring plate. Not only that, the mixing chamber can accommodate a magnetic stirrer to form a linear gradient. An optional peristaltic pump is available for linear and reproducible gradient gels casting base and external casting upstand. PAGE insert and cam-caster Temperature control unit Digital magnetic stirrer and power supply are available as additional accessories For research use only. Not for use in diagnostic purposes. All images are for illustration purpose only, actual products might differ from the pictures above. Subject to technical changes. Hercuvan Lab Systems Sdn Bhd
Open the catalog to page 1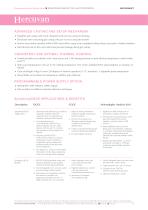 Electroprophoresis & Blotting Series W DENATURING GRADIENT GEL ELECTROPHORESIS ADVANCED CASTING AND SETUP MECHANISM • Simplifies gel casting with newly designed vertical screw-clamp technology • Eliminates time-consuming gel casting with just 4 screws and plate transfer • Built-in inner buffer chamber within PAGE insert allows setup to be completed without heavy top tanks or buffer chambers • Soft-silicone mat on the cam-caster base prevents leakage during gel casting CONSISTENT AND OPTIMAL THERMAL CONTROL • Combines buffer recirculation with a heat sensor and 1.4W heating element to assist...
Open the catalog to page 2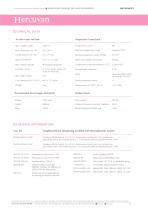 Electroprophoresis & Blotting Series tt DENATURING GRADIENT GEL ELECTROPHORESIS Temperature Control unit Temperature control PID Operating temperature range Ambient-100°C Working temperature range (DGGE) 45-70°C Buffer recirculation mechanism Stirring Safety Fluid-level float switch; isolated; IEC1010/CE Stored temperature values 4 Max. number of gels Plate dimensions (W x H) Gel dimensions (W x H) Spacer thicknesses Max. sample capacity Available combs Max. buffer volume Unit dimension (W x D x H) Weight Gradient Mixer Recommended Power Supply Melody500 Voltage 500V total Volume of...
Open the catalog to page 3
All Hercuvan catalogs and technical brochures

Compare up to 10 products