Catalogs

>

MORPHO
Catalog excerpts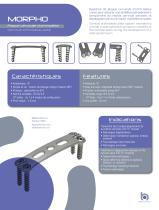 MORPHO Plaque cervicale d'arthrodèse Cervical arthrodesis plate Système de plaque cervicale d'arthrodèse conçu pour assurer une stabilité post-opératoire temporaire au rachis cervical pendant le développement d'une fusion rachidienne solide. Cervical arthrodesis plate system intended to provide a post-operative temporary stability to the cervical spine during the development of a solid spinal fusion. • Anatomique : 8° • imple et sûr : bouton de blocage intégré (rotation 90°) S • ratique : polyaxialité vis Ø 4 P • amme complète : Ø 4 & 4,5 G 27 tailles - de 1 à 4 niveaux de configuration • Profil réduit : 1,6 mm • Anatomic: 8° • Anatomic: 8° • Easy and safe: integrated locking button (90° rotation) • Easy and safe: integrated locking button • Pratical: multiaxiality screw Ø 4 • Pratical: Multiaxiality screw ø 4 • omplete range: Ø 4 & 4,5 C • Complete range: ø 4 & 4,5 - Sizes 27 27 Sizes - from 1 to 4 level configurations • Low profile: 1.6 mm Matière/Material: Titanium TA6V Approche/Approach: antérieure/anterior Indications Traitement des troubles dégénératifs de la colonne cervicale (C3-T1) incluant : • Pathologies dégénératives • éformation rachidienne (cyphose, lordose, D scoliose) • Traumatologie (dont fractures) • Pathologies tumorales Treatment of degenerative diseases of the cervical spine (C3-T1) including: • Degenerative pathologies • pinal deformity (defined as kyphosis, S lordosis,
Open the catalog to page 1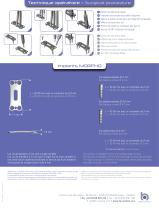 Définir la taille de la plaque I mpacter deux picots en position diagonale Mettre la pointe carrée dans son logement et appuyer Mettre en place deux vis Retirer les pictos et remplacer par des vis Tourner de 90° le bouton de blocage Define the size of the plate I mpact two pins in diagonal position S et the sharp point in its site and push Place two screws Remove the pins and replace with screws Turn 90° the locking button Implants MORPHO Vis autotaraudantes Ø 4 mm Self-tapping screws Ø 4 mm L = 10-24 mm avec un incrément de 2 mm L = 10-24 mm with an increment of 2 mm L = 20-90 mm avec un...
Open the catalog to page 2
All H.P.I. Medical catalogs and technical brochures

Compare up to 10 products