Catalogs

>

fellow supreme
Catalog excerpts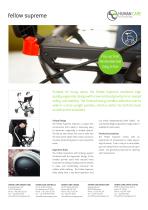 fellow supreme Flip-up Seat Removable Grid Easy to Use Suitable for many users, the Fellow Supreme combines high quality ergonomic design with a low centre of gravity for increased safety and stability. The forward facing handles allow the user to walk in a more upright position, which is better for both the back as well as the shoulders. Unique Design The Fellow Supreme features a unique fork construction that makes it extremely easy to maneuver, especially in smaller spaces. The flip-up seat allows the user to walk into the seat which allows them closer access to counters while doing work in and around the home. Ergonomic Grips The Fellow Supreme's soft braking system combined with the ergonomic design of the handles provide users with reduced hand functions the ability to easily lock the wheels in place and comfortably maneuver the rollator while walking. The Fellow Supreme folds easily with a one-hand operation and HUMAN CARE AUSTRALIA HUMAN CARE CANADA 10-155 Colonnade Road Ottawa, ON K2E 7K1 Phone: +613.723.6734 Fax: +613.723.1058 info.ca@humancaregroup.com can stand independently while folded. Its vast handle height adjustment range make it suitable for most users. Practical Accessories The Fellow Supreme comes with an assortment of accessories to make day-today life easier. From a tray to a cane holder, you can easily find an accessory to suit your needs. The grid easily removes for cleaning and maintenance. HUMAN CARE UNITED STATES 8006 Cameron Road, Suite K Austin, TX 78754 Phone: +512.476.7199 Fax: +512.476.7190 info.us@humancaregroup.
Open the catalog to page 1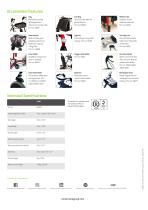 Accessories/Features Tray Practical for resting lightweight items. Maximum load 2kg/4.4lb. Part no. 10667 Soft Bag Soft carry case ideal for personal items. Part no. 08808 Reflector Kit Includes 30 selfadhesive reflectors. Part no. 91090 Mesh basket Ideal for those great shopping adventures. Maximum capacity 4.5kg/10lb. Part no.: 10666 Light kit Illuminate your way while walking. Part no. 91091 Security Lock Flex cord that protects rollator from theft while unattended. Part no. 91092 Cane holder Simplifies transport of a cane or umbrella. Part no. 10603 Oxygen Tank Holder Part no. 10671...
Open the catalog to page 2
All Human Care Group catalogs and technical brochures
Archived catalogs

Compare up to 10 products