Catalogs

>

Rebel
Catalog excerpts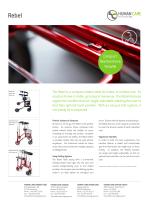 Compact Reactive frame Versatile The Rebel is a compact rollator ideal for indoor or outdoor use. Its reactive frame is stable, yet easy to maneuver. The Rebel features ergonomic handles that are angle-adjustable allowing the user to find their optimal hand position. With an easy-to-fold system, it can easily be transported. Rebel with Basket and Backstrap Perfect Indoors or Outdoors At home or on the go, the Rebel is the perfect choice. Its reactive frame combined with stable wheels allow the rollator to move smoothly on virtually any surface. Available in an assortment of widths, the Rebel offers a versatile rollator that can be used almost anywhere. The reinforced model for those more robust users features a weight capacity of 250kg/551lb. Rebel Reinforced with Basket and Backstrap Rebel Reinforced with Backstrap Easy Folding System The Rebel folds easily with a convenient folding handle built right into the seat and stands independently even in this folded position. Its compact size and folding system make it an ideal option for transport and HUMAN CARE CANADA 10-155 Colonnade Road Ottawa, ON K2E 7K1 Phone: +613.723.6734 Fax: +613.723.1058 info.ca@humancaregroup.com travel. Shown with the basket and backstrap1, the Rebel features a full range of accessories to meet the diverse needs of each individual user. Ergonomic Handles In order to offer the best ergonomics, the handles feature a stable and comfortable grip that distributes the weight put on them evenly. In addition, the Rebel's handles are angle and height adjustable, so that an optimal hand position can be found for each user. 1 Backstrap and basket are optional in all countries except for Canada HUMAN CARE UNITED STATES 8006 Cameron Road, Suite K Austin, TX 78754 Phone: +512.476.7199 Fax: +512.476.7190 info.us@humancaregroup.
Open the catalog to page 1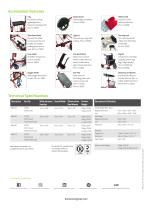 Accessories/Features Tray Practical for resting lightweight items. Maximum load 2kg/4.4lb. Part no. 10602 Splash Guard Protects legs and clothes. Part no. 10608 Reflector Kit Includes 30 selfadhesive reflectors. Part no. 91090 Slow-Down Brake Prevents the rollator fro moving too fast and enables a controlled walking speed for the user. Part no.: 10620 Light kit Illuminate your way while walking. Part no. 91091 Security Lock Flex cord that protects rollator from theft while unattended. Part no. 91092 Cane holder Simplifies transport of a cane or umbrella. Part no. 10603 One-Hand Brake Allows...
Open the catalog to page 2
All Human Care Group catalogs and technical brochures
Archived catalogs

Compare up to 10 products