Catalogs

>

HWTAi

>

Flocked Swab-HWTAi
Catalog excerpts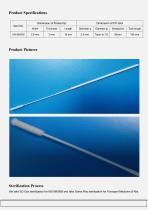 Product Specifications Dimension of flocked tip Total length Product Pictures Sterilization Process We take EO Gas sterilization for MS-96000B and take Gama Ray sterilization for Transport Mediums & Kits.
Open the catalog to page 1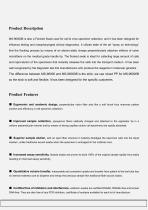 Product Description MS-96000B is also a Flocked Swab used for cell & virus specimen collection, and it has been designed for influenza testing and nasopharyngeal clinical diagnostics. It utilizes state of the art "spray on technology" that the flocking process by means of an electro-static charge perpendicularly attaches millions of nylon microfibers on the medical grade handle tip. The flocked swab is ideal for collecting large amount of cells and rapid elution of the specimens that instantly releases the cells into the transport medium. It has been well recognized by the diagnostic test...
Open the catalog to page 2
All HWTAi catalogs and technical brochures

Archived catalogs

Compare up to 10 products