Catalogs

>

Accutone Studio Absorption Panels
Catalog excerpts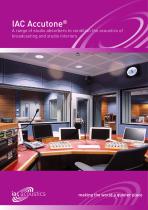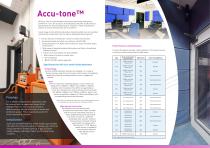 IAC Accu-Tone™ studio absorbers have been specifically developed to condition or 'tune' the acoustics of broadcasting and other studio interiors. Typically they are fixed to studio walls or ceilings, in either large banks or clusters to control reverberation and echo effects. A wide range of cost-effective, laboratory-tested standard sizes are available and specially customised units can also be developed where required. Proven, effective reverberation control for studio environments Acoustically tested and rated in accordance with BS 3638 l Used extensively in TV, Radio, Post-Production,...
Open the catalog to page 2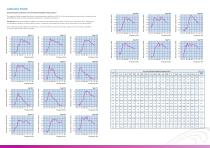 Laboratory Tested Type C12 Absorption coefcient (ISO) One Third Octave Mid Band Frequency (Hz) 50 Type A21 Absorption coefcient (ISO) Type A12 Absorption coefcient (ISO) Type A11 Absorption coefcient (ISO) Note: The British Standard 3638 test method aims to include the effects of practical mounting conditions and for this reason, absorption co-efficients greater than unity are possible. Test Set-Up: 25 absorbers of 580mm x 580mm cross-section were supported 25mm above the floor of the reverberation room. A 20mm gap surrounded each absorber, creating a 600mm matrix. The effective...
Open the catalog to page 3
All Iac Acoustics catalogs and technical brochures

Archived catalogs

Compare up to 10 products