Catalogs

>

COMMISSIONING & QA FOR TOMOTHERAPY®
Catalog excerpts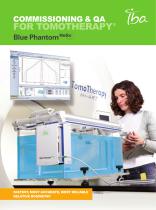 FOR TOMOTHERAPY® ggggg fffff FASTEST, MOST ACCURATE, MOST RELIABLE RELATIVE DOSIMETRY IBA DOSIMETRY // 1
Open the catalog to page 1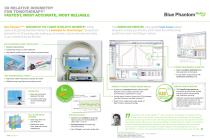 3D RELATIVE DOSIMETRY FOR TOMOTHERAPY® FASTEST, MOST ACCURATE, MOST RELIABLE Blue Phantom Helix : DESIGNED BY THE LEADER IN RELATIVE DOSIMETRY, entirely based on the gold standard Blue Phantom² and dedicated for TomoTherapy®. Designed and optimized for all 3D scanning needs enabling you to be fastest, most accurate and most reliable in your commissioning and QA work! Fully WORKFLOW ORIENTED, menu guided myQA Accept software: ciency and to reduce the commissioning designed to increase your efficiency and to reduce the commissioning and QA time of your TomoTherapy® machine. HIGH POSITIONING...
Open the catalog to page 2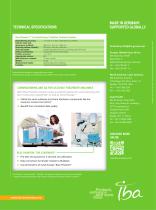 BLUE PHANTOM2 WITH OMNIPRO-ACCEPT (V 7) MADE IN GERMANY. FASTEST, MOST ACCURATE AND TECHNICAL SPECIFICATIONS SUPPORTED GLOBALLY. 0.1mm in 3 IBA Dosimetry has For over±35 yearsaxes, calibrated and certified been providing the x 407 mm x quality dosimetry 680 mm highest 350 mm 520 x equipment mm x 140 mm50 20010.000 satisfi25 mm/s to more than mm ed positioning speed mm/s, scanning speed contact less sensor technology customers worldwide. ± 0.1 mm The new80Blue Phantom2, with over 25,000 l 15 mm / acrylic Linacs commissioned, embodies decades 27 kg step-by-step and continuous of expertise,...
Open the catalog to page 3
All IBA Group catalogs and technical brochures

Compare up to 10 products