Catalogs

>

DigiPhant PT: Patient Plan QA Device for Particle Therapy
Catalog excerpts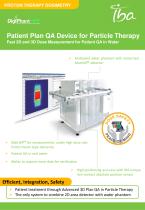 PROTON THERAPY DOSIMETRY Patient Plan QA Device for Particle Therapy Fast 2D and 3D Dose Measurement for Patient QA in Water  Dedicated water phantom with motorized MatriXXPT detector  MatriXXPT for measurements under high dose rate Proton beam type deliveries  Patient QA in real water  Ability to acquire more data for verification  High positioning accuracy with IBA unique non-contact absolute position sensor Efficient, Integration, Safety  Patient treatment through Advanced 3D Plan QA in Particle Therapy  The only system to combine 2D area detector with wa
Open the catalog to page 1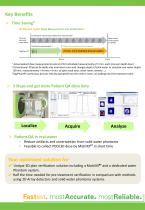 Key Benefits  Time Saving* Actual patient dose measurements consist of 10 individual measurements of 2 min. each (one per depth dose) Conventional: Physicist 9x walks into treatment room and changes depth of solid water to simulate next water depth (20 min. measurements + 9 times ≈3 min. to open vault door, enter room, remove ...) 3 DigiPhantPT continuous process entirely operated from the control room, no walking into the treatment room 2  3 Steps and get more Patient QA dose data  Patient QA in real water  Reduce artifacts and uncertainties from solid water phantoms  Feasible to...
Open the catalog to page 2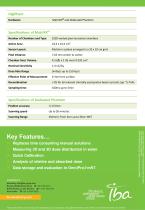 DigiPhant Hardware MatriXXPT and Dedicated Phantom Sensor Layout Matrix in a plane arranged in a 32 x 32 cm grid Pixel Distance 7.62 mm center to center Chamber Size/ Volume 4.5 (0) x 2 (h) mm/ 0.032 cm3 Dose Rate Range 5mGy/s up to 150 Gy/s Effective Point of Measurement 6 mm from surface Recombination <1% for all relevant clinically used proton beam currents (up ~5-7nA) Scanning speed Up to 20 mm/sec Scanning Range 310mm/ From 3cm up to 33cm WET Key Features... > Replaces time consuming manual solutions > Measuring 2D and 3D dose distribution in water > Quick...
Open the catalog to page 3
All IBA Group catalogs and technical brochures

Compare up to 10 products