Catalogs

>

F4w Manual Bed SaikangMedical
Catalog excerpts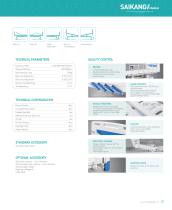 SAIKANG/Medical LEADING BRAND OF CHINA MEDICAL FURNITURE Stock Code: 870098 Height Reverse Trendelenburg Adjustment Trendelenburg QUALITY CONTROL TECHNICAL PARAMETERS f External L*W*H Mattress Platform Safe Working Load Back-rest Adjustment Knee-rest Adjustment Reverse Trendelenburg l Trendelenburg DESIGN L-shaped foldable guardrail (patent),bended tube, solid installing, 0 shaking, anti-pinch, protect patient's safety HAND CONTROL Retractable hand crank, 100,000 times remaining intact Extreme protection device, sounds when tipped to the max position, Strong pallets to increase the bed...
Open the catalog to page 2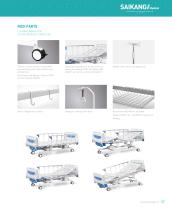 SAIKANG/Medical LEADING BRAND OF CHINA MEDICAL FURNITURE Stock Code: 870098 TPR tire no worn out after running 30KM, save anti-winding hard shell, united forming without bolts Stamping forming platform, smooth surface no Stainless Steel Column with plastic hook, welding scar, bearing 250KG load. Option ABS platform and resin X-ray translucent platform Pass Dynamic test: Bearing 120kg run 30KM and pass obstacles 500time Shoes holder: 800*400mm, adjustable Oxygen cylinder rack - adjustable for anysize tank Blocking www.ch i nasai kang.com
Open the catalog to page 3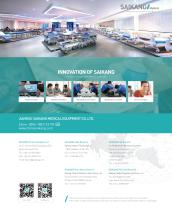 Design Innovation Research Innovation Manufacturing Innovation Maintenance nnovation Service Innovation JIANGSU SAIKANG MEDICAL EQUIPMENT CO..LTD. 24hrs: 0086-18021231901 © www.chinasaikang.com SAIKANG (USA Branch) Saikang Medical Technology, 17800 Castleton St Ste 180, City of Industry Ca 91748 Tel: +1 949648-2776 SAIKANG (China Headquarter) No.35 Lehong Road.Zhangjiagang City, Jiangsu Province.China. TEL:+86-512-58525850 FAX: +86-512-58520713 E-mail: inquiry@jssaikang.com SAIKANG (UK Branch) \ Uk Healthward International Limited Owner(s) Address DEPT I LI, 196 High Road Wood Green,...
Open the catalog to page 4
All Jiangsu Saikang Medical Equipment catalogs and technical brochures

Compare up to 10 products