Catalogs

>

SKB-7E001 Cremation Machine SKMortech
Catalog excerpts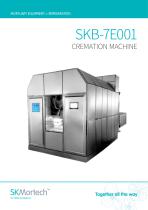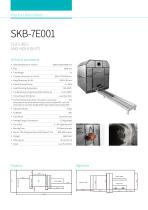 Product data sheet SKB-7E001 FEATURES AND HIGHLIGHTS Technical parameters ▪▪ Overall Dimension (L×W×H) ▪▪ Chamber Dimension (L×W×H) ▪▪ Hearth Burning Presser ▪▪ Hearth Burning Temperature ▪▪ Fire Resistance Temperature of Brick Structure ▪▪ Surface Temperature of the cremation furnace rises The temperature rise of the furnace body surface is below 45℃, and the temperature rise of the handle of the observation hole is below 60℃ ▪▪ Induced Draft Fan ▪▪ Average Energy Consumption ▪▪ Service Life of Kang Surface of Ash Pickup Truck ▪▪ Voltage Operation Table Cooling Lagging Cooling Lagging...
Open the catalog to page 2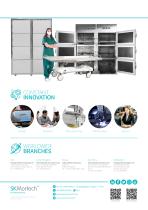 CONSTANT INNOVATION WORLDWIDE BRANCHES Saikang Medical Technology, Inc. 17800 Castleton St Ste 180, City of Industry, 91748, California. Tel.: +1 949648 2776 United Kingdom UK Healthward International Ltd. Dept. 111, 196 High Road Wood Green, N22 8HH, London. Tel.: +44 2032399738 East Africa Saikang Medical Solutions Ltd. Viraj Complex Unit 3, Mombasa Road, P.O. Box 14262-00800, Nairobi. Kenya. Tel.: +254 733 704 690 Middle East Saikang Medical Supplies LLC X22-S03 England Cluster, International City, Dubai. United Arab Emirates. Tel.: +20 128 8962497 No. 35, Lehong Road · Zhangjiagang...
Open the catalog to page 3
All Jiangsu Saikang Medical Equipment catalogs and technical brochures

Compare up to 10 products