Catalogs

>

SKB039(D) Ambulance-Stretcher-Trolley_SaikangMedical
Catalog excerpts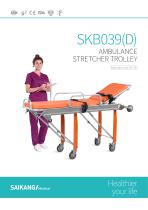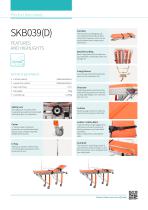 Product data sheet The mechanical folding legs are controlled by the handles at both ends of the stretcher, which can be easily lowered when entering the ambulance. Technical parameters ▪▪ Full size (LxWxH) ▪▪ Lowest size (LxWxH) ▪▪ Back-rest lifting ▪▪ Net weight Safety Lock The safety lock is locked when transporting a patient, and unlocked when getting on an ambulance. 5'' silence caster. Advanced protection universal brake wheel, easy to move, simple to operate, reliable performance. Telescopic stainless steel infusion rod, strong bearing capacity, more convenient to use. Back Rest...
Open the catalog to page 2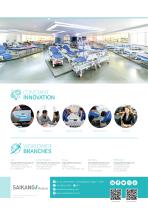 CONSTANT INNOVATION Design worldwide BRANCHES USA Saikang Medical Technology, Inc. 17800 Castleton St Ste 180, City of Industry, 91748, California. Tel.: +1 949648 2776 united Kingdom UK Healthward International Ltd. Dept. 111, 196 High Road Wood Green, N22 8HH, London. tel.: +44 2032399738 Russia Saikang Medical Russia LLC Truda 174, 454080 Chelyabinsk. tel.: +7 (351) 214 5566 / 8811 / 1516 East africa Saikang Medical Solutions Ltd. Viraj Complex unit 3, Mombasa Road, P.o. Box 14262-00800, nairobi. Kenya. tel.: +254 733 704 690 Middle east Saikang Medical Supplies LLC X22-S03 England...
Open the catalog to page 3
All Jiangsu Saikang Medical Equipment catalogs and technical brochures

Compare up to 10 products