Catalogs

>

SKH048 Oxygen Bottle Trolley SaikangMedical
Catalog excerpts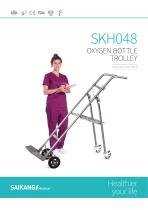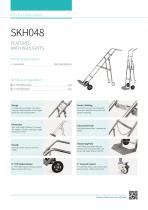 Product data sheet SKH048 Features and Highlights Technical parameters ▪▪ Size (LxWxH) Technical configuration ☑☑ 6'' TPP Rubber Rastor ☑☑ 3'' Covered Castors U-shaped groove design, radian the meets the requirements of the oxygen bottle for safe transportation. Size: 1435×360×1040mm, Can load 40L oxygen cylinders, the body is light and easy to move. Pushing handle, easy to move the trolley. 6'' TPP rubber castor, Strong, durable, labor-saving, safty in use. Baosteel from Fortune Global 500. Panasonic Robotic ensure 360° full smooth wedlding. Galvanized Chain 4mm galvanized chain,...
Open the catalog to page 2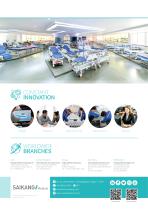 CONSTANT INNOVATION Design WORLDWiDE BRANCHES USA Saikang Medical Technology, Inc. 17800 Castleton St Ste 180, City of Industry, 91748, California. Tel.: +1 949648 2776 united Kingdom UK Healthward International Ltd. Dept. 111, 196 High Road Wood Green, N22 8HH, London. tel.: +44 2032399738 Russia Saikang Medical Russia LLC Truda 174, 454080 Chelyabinsk. tel.: +7 (351) 214 5566 / 8811 / 1516 East africa Saikang Medical Solutions Ltd. Viraj Complex unit 3, Mombasa Road, P.o. Box 14262-00800, nairobi. Kenya. tel.: +254 733 704 690 Middle east Saikang Medical Supplies LLC X22-S03 England...
Open the catalog to page 3
All Jiangsu Saikang Medical Equipment catalogs and technical brochures

Compare up to 10 products