Catalogs

>

JRI

>

MobiTemp
Catalog excerpts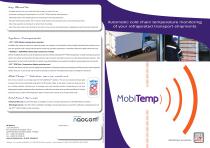 Key Benefits - Scalable solution for your truck fleet that is easy to install and use. - Automatic reading and identification of our SPYTM RFID wireless data recorders. - GPS Geolocation with identification and recording of multi-step deliveries. - Secured web based solution with multi-user data access and automatic back up and archiving of data. Automatic cold chain temperature monitoring of your refrigerated transport shipments - Real time scalable monitoring of an entire fleet of vehicles. - Real time alarm alerts sent directly to the driver in the cab and simultaneously to designated overall fleet administrators. System Components - SPYTM RFID: Wireless temperature recorders Available with either an internal or external probe, our recorders can be placed inside multiple individual boxes directly on or near any product that is being transported or inside any specialty temperature-controlled cabinets located within the truck. - MobiBoxTM: GSM/GPRS cellular data transmission module Vehicle installed, this device reads temperature data from all the individual SPYTM RFID temperature recorders being transported within the vehicle and transmits the data and any real time alerts and alarms back to our web-based software solution. GPS geolocation for each truck in the fleet is tracked using the MobiBox and viewable through the personalized web site portal. - SPYTM RFID Visu: Temperature display and alarm unit Placed in the driver's cab, this unit can display the temperature of all products being monitored by the RFID recorders and transported within the truck. It also sends real time alerts directly to the driver if needed and includes a mailbox for the driver. MobiTempTM Solution service contract Our service contract is an integral part of the MobiTempTM solution. The service includes the data plan necessary for remote nationwide acquisition of all transport data. It also allows multi-user web access to our intuitive website, allowing you to manage, view and monitor product temperatures of all your refrigerated transport operations from anywhere as well as the real time alerts and the entire fleet of vehicles and their routes. Emails with temperature data are sent to the receiver at each step of the route. Additional Services -Technical Hot Line: Our technical team is available to assist in remote maintenance of the MobiTempTM solution. - Metrology Service: Our ISO 17025 accredited metrology in-house laboratories can perform calibration and adjustment on JRI Maxant 2 rue de la Voivre Parc d'Activités Technoland - BP 21 25490 FESCHES LE CHATEL CEDEX - FRANCE Tel. : +33(0)3 81 30 68 04 Fax : +33(0)3 81 30 60 99 www.jri-maxant.com - E-mail : info@jri.fr JRI Maxant - S.A.S. au capital de 4 000 000 € - R.C.S. PONTOISE 380 332 858 - Head oce : 116 Quai de Bezons - BP 20085 - 95101 ARGENTEUIL CEDEX - FRANCE © service communication JRI Maxant - september 2012 the SPYTM RFID recorders when necessary.
Open the catalog to page 1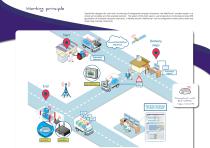 Working principle Specifically designed for cold chain monitoring of refrigerated transport shipments, the MobiTempTM wireless system is a simple yet complete and fully scalable solution. The system offers both easy to use temperature monitoring and also GPS geolocation of individual transport shipments. A flexible solution, MobiTempTM can be configured for both point to point and closed loop transport scenarios. Start Start Delivery Delivery steps steps Secured Web platform f Secured Web platform MobiTemp MobiTemp T Au omatic ut Automatic detection det tion detecti Automatic Automatic...
Open the catalog to page 2
All JRI catalogs and technical brochures

Compare up to 10 products