Catalogs

>

Kare Medical KMV 5010
Catalog excerpts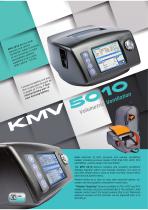 both vers e li y 0 de um ivel 501 nd vol r invas lt V a u e KM sure eith to ad pres ilation, ively, ts s t n ven n-inva c patie ore no tri or m . or pedia 5 kg 50 ml) d an hting e > g wei l volum tida ( free and t by ity ugh abil port tion bro -hour e 7 ra rem Ext of ope 3.5 kg, d 15m an y. of y do ight tter ter e a w rnal ba ap bat e int hotsw r hou Wide selection of both pressure and volume ventilation s modes; including pressure modes CPAP ASB, PSV, aPCV, PCV SIMV and SIMVp, volume modes VCV and SIMVv. KM The KMV 5010 delivers complex and versatile ventilation therapy together with a user-friendly interface. It is easy to use with simple menus, easy to enter and lock clinical menu se and a secure patient menu. Patient follow-up is also so easy with essential alarms, onscreen real time graphics and patient trends data. "Volum Targeting" feature available in PSV, aPCV and PCV "Volume modes increases pressure automatically if the patient's tidal volume cannot reach the target volume that is set. Maximum pressure increase of this function can be adjusted from 3 to 20 cmH2O.
Open the catalog to page 1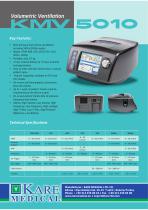 Volumetric Ventilation Both pressure and volume ventilation, including SIMVv/SIMVp modes Modes: CPAP ASB, PSV, aPCV, PCV, VCV, SIMVv, SIMVp 7-hour internal battery & 15-hour external hotswap battery Easy to enter and lock clinical menu, a secure patient menu "Volume Targeting" available on PCV and On-screen real time graphics of pressure, Up to 7 week of patient Trends could be examined from the device screen On-screen patient trends data of pressure, Alarms: High Volume, Low Volume, High Frequency, Low Frequency, High Leakage, High Ti Max, Low Ti Max, High Pressure echnical Specifications....
Open the catalog to page 2
All Kare Medical and Analytical Devices catalogs and technical brochures

Archived catalogs

Compare up to 10 products