Catalogs

>

SleepOne ProPSV
Catalog excerpts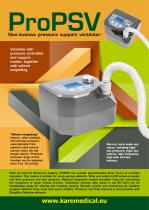 Non-invasive pressure support ventilator Versatile with pressure controlled and support modes, together with volume targetting. "Volume targetting" feature, when enabled, will increase pressure automatically if the patient's tidal volume cannot reach the set target volume. Pressure increase range of this function can be adjusted from 3 to 10 cmH2O. Alarms, both audio and visual, including high/ low pressure, high/low volume, high frequency, high leak and low battery. With its internal lithium-ion battery, ProPSV can provide approximately three hours of portable operation. This makes it suitable for more serious patients. Wide and colorful LCD screen provides real time pressure and flow graphics. Optional integrated heated humidifer helps for preventing the symptoms of upper airway dryness. Ventilation therapy data saved in the SD Card can be downloaded easily for viewing and creating reports. Remote control and monitoring via realtime graphics (Patient Flow/Leak with event notifers, Pressure and Tidal Volume) is also possible with SleepOne Desktop software.
Open the catalog to page 1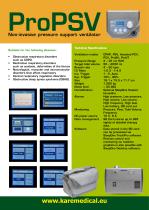 Non-invasive pressure support ventilator Suitable for the following diseases: • • • • • Obstructive respiratory disorders such as COPD Restrictive respiratory disorders such as scoliosis, deformities of the thorax Neurological, muscular and neuromuscular disorders that affect respiratory Central respiratory regulation disorders Obstructive sleep apnea syndrome (OSAS) Technical Specifcations: Ventilation modes Pressure Range Target tidal volume Breath rate I:E Ratio Ins. Trigger Exp. Trigger Size Weight Noise level Humidifcation Alarms Monitoring DC power source Data management Software...
Open the catalog to page 2
All Kare Medical and Analytical Devices catalogs and technical brochures

Archived catalogs

Compare up to 10 products