Catalogs

>

SLEEPONE-ProVT-VENTILATION
Catalog excerpts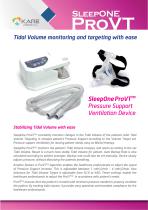 Tidal Volume monitoring and targeting with ease SleepOne ProVT™ Pressure Support Ventilation Device Stabilizing Tidal Volume with ease SleepOne ProVT™ constantly monitors changes in the Tidal Volume of the patients. With Tidal Volume Targeting, It changes patient's Pressure Support according to the Volume Target set. Pressure support ventilation for moving patient needs, easy as Bilevel therapy. SleepOne ProVT™ monitors the patients Tidal Volume changes, and reacts according to the set Tidal Volume. Result is a much more stable Tidal Volume for patient. Auto Backup Rate is also calculated according to patient averages. Backup rate could also be set manually. Device slowly adjusts pressure, without disturbing the patients breathing. Another feature in ProVT™ algorithm enables the healthcare professionals to adjust the speed of Pressure Support increase. This is adjustable between 1 cmH20/min - 4 cmH20/min. Also tolerance for Tidal Volume Target is adjustable from %10 to %60. These settings enable the healthcare professionals to adjust the ProVT™ in accordance with patients needs. ProVT™ ensures that the patient is treated with minimum pressure needed to properly ventilate the patient. By tracking tidal volume, it provides easy operation and traceable compliance for the healthcare professionals.
Open the catalog to page 1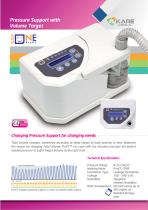 Changing Pressure Support for changing needs Tidal Volume changes, sometimes according to sleep stages or body position or else. Whatever the reason for changing Tidal Volume, ProVT™ can cope with the situation and give the patient needed pressure to fulfill Target Volume at the right time. Technical Specifications Pressure Range Working Mode Ventilation Type Voltage Humidifier Data management 4-35 CmH2Q ProVT, CPAP Leakage Ventilation 100 - 240 VAC SleepOne Heated Humidifier SD Card stores up to 365 nights of detailed therapy data.
Open the catalog to page 2
All Kare Medical and Analytical Devices catalogs and technical brochures

Archived catalogs

Compare up to 10 products