Catalogs

>

Physiosuite® Brochure
Catalog excerpts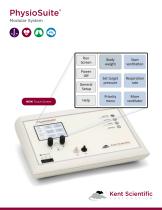 Body weight s> Start ventilation Respiration rate Priority menu More ventilator Kent Scientific CORPORATION
Open the catalog to page 1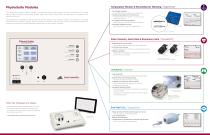 Temperature Monitor & Homeothermic Warming / RightTemp® The PhysioSuite Modular System includes an integrated touch screen display, real-time recordings and 5 safety alarms. Internal memory provides data storage, with a mini USB for data output. The PhysioSuite is compatible with stereotaxic devices. The PhysioSuite is essentially a box that you fill with the modules your research requires. Each module is a separate component that provides a specific function: warming, ventilation, pulse oximetry and CO2 monitoring. Combine the modules you need now and add additional modules later as your...
Open the catalog to page 2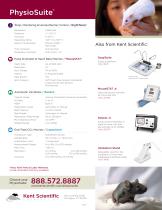 PhysioSuite® Temp. Monitoring & Homeothermic Control / RightTemp® Resistance Operating Temp. Time Constant Dissipation Constant Also from Kent Scientific: SurgiSuite Pulse Oximeter & Heart Rate Monitor / MouseSTAT® Heart Rate Resolution SpO₂ Range Data Export Surgical platform. Only $475 Shown with optional LED Lighting Kit SpO₂ Sensors Soft Touch Paw Sensors (standard) Large Animal Clip Sensors Pup Sensors MouseSTAT Jr. Automatic Ventilator / RoVent® Control Modes Volume Controlled, Pressure Controlled Hand held pulse oximeter for mice and rats. Only $1,495 PEEP Built-in Respiratory Assist...
Open the catalog to page 3
All Kent Scientific catalogs and technical brochures

Compare up to 10 products