Catalogs

>

Kinetec

>

Hill-Rom
Catalog excerpts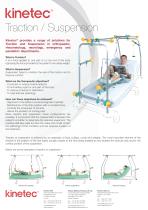 Traction / Suspension Kinetec® provides a range of solutions for Traction and Suspension in orthopaedic, rheumatology, neurology, emergency and paediatric departments. What is Traction? It is a force applied to one part or to one end of the body opposing the force provided by the patient's own body weight. What is Suspension? Suspension helps to maintain the axis of the traction and to improve comfort. What are the therapeutic objectives? - To prevent or reduce muscle spasms. - To immobilize a joint or one part of the body. - To reduce a fracture or dislocation. - To treat articular pathology. How can these objectives be achieved? - Alignment of the distal or proximal fragment member. - Maintenance of the limb position with a constant force. - Controls the movement of the limb. - Allows the provision of nursing care. Many traction and suspension frame configurations are possible, It is important that the medical staff understand the patient's condition to determine the required equipment. The medical staff also need to know the make and model of bed, the pathology of the condition and the required duration of the treatment. Traction or suspension is achieved by an assembly of bars, pulleys, cords and weights. The most important element of the traction is the position of the first pulley (usually closest to the limb being treated) as this dictates the articular axis and/or the correct position of the suspension. Below are some examples of traction or suspension. Inferior limb traction Pelvic suspension Kinetec SAS Zone Industrielle de Tournes Rue Maurice Périn F-08090 Tournes France Kinetec Medical Products UK Ltd Unit E, Manaway Industrial Estate 13 Holder Road, Aldershot Hampshire GU12 4RH United Kingdom contact@kinetec.fr www.kinetec.fr enquiries@kinetecuk.com www.kinetecinternational.com Cervical Traction Kinetec USA, Inc. W225N16708 Cedar Park Court Jackson, WI 53037 USA Tel.: +262-677-1248 Fax: +262-677-1314 contact@kinetecusa.com www.kinetecusa.
Open the catalog to page 1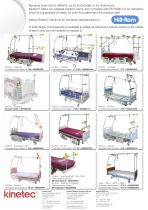 Because every bed is different, by its functionality or its dimensions, Kinetec® offers an adapted traction frame and complies with EN 60601-2-52 standard, which is a guarantee of safety for both the patient and the medical staff. Below Kinetec® solutions for the beds manufactured by: A wide range of accessories is available to adapt as well as the traction frame to the needs of each user, do not hesitate to request it. Hill-Rom - Progressa Complete frame Kinetec® • T49 • 4655004982 Hill-Rom - TotalCare Complete frame Kinetec® • T14 V2 • 4655003546 Hill-Rom - Compella Complete frame...
Open the catalog to page 2
All Kinetec catalogs and technical brochures

Compare up to 10 products