Catalogs

>

Prism Mini
Catalog excerpts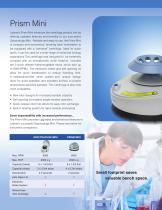 Prism Mini Labnet's Prism Mini enhances the centrifuge product line by offering updated features and benefits to our successful Spectrafuge Mini. Reliable and easy-to-use, the Prism Mini is compact and economical, allowing each workstation to be equipped with a "personal" centrifuge. Ideal for quick spins, it can be used for a wide range of molecular biology separations The centrifuge was designed to be extremely compact with an exceptionally small footprint. Included are 2 quick release interchangeable rotors, which spin up to 6000 RPM's. The electronic brake and self opening lid allow for...
Open the catalog to page 2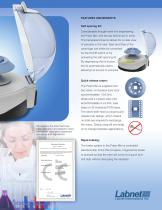 FEATURES AND BENEFITS Self opening lid: Considerable thought went into engineering the Prism Mini with the lab technician in mind. The transparent blue lid allows for a clear view of samples in the rotor. Start and Stop of the centrifuge can either be controlled by the On/Off switch or by activating the self-opening lid. By depressing the lid button, the lid automatically opens allowing full access to samples. Quick release rotors: The Prism Mini is supplied with two rotors. An 8 place tube rotor accommodates 1.5/2.0mL tubes and a 4 place strip rotor accommodates 4 x 0.2mL tube strips or 32...
Open the catalog to page 3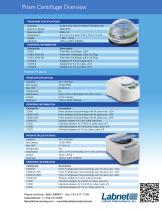 PRISM MINI SPECIFICATIONS Capacity: 8 place tube rotor & 4 place PCR Strip rotor ORDERING INFORMATION Related Products PRISM SPECIFICATIONS Refrigerated: Dimensions: Weight: Electrical: ORDERING INFORMATION No 9.45 x 13.8 x 7.48 inches / 24 x 35 x 19 cm 21 lbs / 9.6 Kg 120V or 230V, 50/60Hz Description Prism ambient microcentrifuge with 24 place rotor, 120V Prism ambient microcentrifuge with 24 place rotor, 100V Prism ambient microcentrifuge with 24 place rotor, 230V Stripspin adapter for 0.2mL tubes and strips Individual adapters for 0.5/0.6 mL tubes, pack of 6 Individual adapters for...
Open the catalog to page 4
All Labnet International catalogs and technical brochures

Archived catalogs

Compare up to 10 products