Catalogs

>

Drying Ovens V2017
Catalog excerpts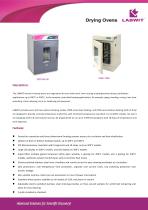 Descriptions: The LABWIT forced air drying ovens are engineered for your daily work, from routing simple glassware drying sterilization applications up to 200°C or 300°C, to the complex, controlled heating applications, for example, aging, bonding, curing, heat treat annealing, stress relieving, burn-in, hardening test purposes. LABWIT provide ovens with two optional heating modes, ZXRD-series back heating, and ZXFD-series bottom heating. Both of them are designed to provide accurate temperature uniformity, with minimized temperature overshoot. For all 200°C models, the oven s are equipped with LCD control panel and can be programmed to run up to 9 different programs with 18 steps of temperatures and time segments. Features: • Forced-air convection and three dimensional heating systems ensure air circulation and heat distribution. • Options of back or bottom heating models, up to 200°C and 300°C • PID Microprocessor controller with 9 segments and 18 steps, only on 200°C models. • Large LCD display on 200°C models, and LED display on 300°C models. • Argon-filled multiple glazed tempered safety glass window, 2 glazing for 200°C models and 3 glazing for 300°C models, optimizes sample monitoring as well as minimize heat losses. • Electro-polished stainless steel inner chambers and round corners for easy cleaning and better air circulation. • Safe protections: over-temperature limit protection, separate over-current fuses, trip switching protection over electric leakage • Non-volatile memory retains pre-set parameters in case of power interruption. • Standard wheel casters available on all models of 210L and above in volume. • Adjustable electro polished stainless steel shelving provides air flow around samples for uniformed tempering and allow for easy cleaning. • 2 grids included as standard.
Open the catalog to page 1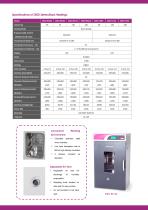 Convenient Working Environment S Complete stainless steel inner chamber S Low heat dissipation due to 50mm high density insulation S 2 shelves included as standard. Adjustable Air Vent S Adjustable air vent for discharge of humidity evaporation. S Adjusting knob located on side wall for easy access. S Air vent located on the back wall.
Open the catalog to page 2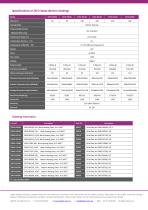 Labwit quality assurance program demands the continuous assessment and improvement of all Labwit products. Information in this leaflet could thus change without notification and does not constitute a product specification. Please contact Labwit or their representatives if you require more details LABWIT Scientific Pty Ltd T :+61 403 838 963 W:www.labwit.com.au E: info@labwit.com.au ABN: 99155 819 980 All Rights Reserved.
Open the catalog to page 3
All Labwit Scientific catalogs and technical brochures

Compare up to 10 products