Catalogs

>

Economic Benchtop Shaking Incubators 2017
Catalog excerpts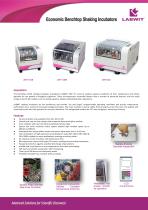 Economic Benchtop Shaking Incubators ZWY-103B Description: The benchtop orbital shaking incubators provided by LABWIT offer for small to medium capacity conditions of time, temperature and orbital agitation for the growth of biological organisms. These microprocessor controlled shakers have a number of advanced features that are really unique in bench top models, such as cooling capacity, stepless shaking diameter adjustment. LABWIT shaking incubators are lab workhorses and provide "set and forget" programmable operating conditions and precise tempe rature performance for a variety of molecular biology techniques. The inner chamber is clearly visible from all angles across the room. The audible and visual alarms will alert the operator for set point deviations. The refrigerated models use CFC-free refrigerant, ozone layer friendly. Features: • Various chamber sizes available from 34L, 63L to 69L • Smooth and easy to clean design with tempered observation glass window. • Inner chamber and tray from electro polished stainless steel. • Special low noise induction motor system enables high rotation speed up to 400rpm or 600rpm. • Patented driver system allows stroke continuous adjustment from 1 to 50 mm. • The combination of high speed and small diameter make ZWY-103D, ZWY-100D & ZWY-200D suitable for many applications involving microtitre plates. • AC inductive motor, brushless and maintenance free. • Microprocessor control with large LCD screen, showing set and actual parameters. • Password protection against unauthorized change of parameters. • Audible and visual alarms on over temperature and motor overheating. • Soft start and smooth acceleration after lid opening. • Timer up to 500 hours and continuous mode. • Predrilled standard tray included, without clamps. Stepless Shaking Diameter Adjustment Quality #304 Stainless Steel Inner Chamber Forced Air Convection Delivers Excellent Temperature Uniformity ensure smooth Control Panel Advanced Solutions for Scientific Discovery!
Open the catalog to page 1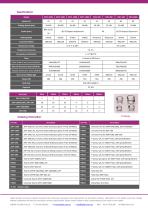 Labwit quality assurance program demands the continuous assessment and improvement of all Labwit products. Information in this leaflet could thus change without notification and does not constitute a product specification. Please contact Labwit or their representatives if you require more details LABWIT Scientific Pty Ltd T :+61 403 838 963 W:www.labwit.com.au E: info@labwit.com.au ABN: 99155 819 980 All Rights Reserved.
Open the catalog to page 2
All Labwit Scientific catalogs and technical brochures

Compare up to 10 products