Catalogs

>

NeoNatalie
Catalog excerpts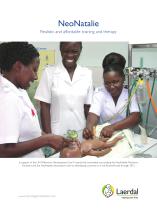 NeoNatalie Realistic and affordable training and therapy In support of the UN Millennium Development Goal 4 Laerdal has committed to providing the NeoNatalie Newborn Simulator and the NeoNatalie resuscitation tools to developing countries on a not-for-profit basis through 2015
Open the catalog to page 1
NeoNatalie facilitates effective learning of standard new- born care and resuscitation measures. The low cost simulator is available with affordable therapeutic tools. NeoNatalie is easily prepared for use by filling the body with two liters of water, or alternatively with air. NeoNatalie facilitates practice in effective bag-maskventilation. Chest will only rise with correct technique. NeoNatalie was developed to help train millions of birth attendants in low-resource countries in neonatal resuscitation courses, such as "Helping Babies Breathe"* * Helping Babies Breathe (HBB) is an...
Open the catalog to page 2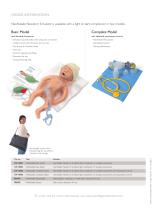 ORDER INFORMATION NeoNatalie Newborn Simulator is available with a light or dark complexion in two models. Basic Model Complete Model with Standard Accessories with additional resuscitation care kit - Simulation squeeze bulbs with tubing and connectors - NeoNatalie Resuscitator - Umbilical cord with connector and two ties - NeoNatalie Suction - Two sheets to simulate towels - Training stethoscope - Head cap - Tube for topping body filling - Directions for use - Transport/storage bag 104-10001 NeoNatalie Basic (dark) NeoNatalie Newborn Simulator, dark complexion w/ standard accessories...
Open the catalog to page 3
All Laerdal Global Health catalogs and technical brochures

Archived catalogs

Compare up to 10 products