Catalogs

>

Stifneck ® Select TM Extrication Collars
Catalog excerpts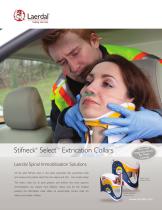 Stifneck Select Extrication Collars ® Now with oks Ho Integratedasal rN fo Cannula Laerdal Spinal Immobilization Solutions All the adult Stifneck sizes in one easily adjustable, fully assembled collar. Just measure the patient, select the size, adjust, and lock – four simple steps! Stifneck Select Extrication Collar ® The Select collar fits all adult patients and delivers the same superior immobilization you expect from Stifneck collars and, for the smallest patients, the Pedi-Select collar offers an anatomically correct collar for Stifneck Pedi-Select Extrication Collar ® infants and smaller children.
Open the catalog to page 1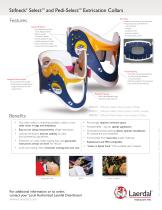 Stifneck Select and Pedi-Select Extrication Collars ® Rear Panel: • Molded-in instructions on the back panel • Unique, large rear panel allows for: - c-spine palpation - drainage - visualization while promoting ventilation for better patient comfort Locking Mechanism: • Four positions: No-Neck, Short, Regular, and Tall • Clearly marked and easy to identify • Ensures stability of collar • Audible response for safety • Tactile response for safety • Assures symmetrical adjustment Tracheal Opening: • Oversized tracheal opening allows for easy access for advanced airway procedures • Optimal...
Open the catalog to page 2
All Laerdal Medical catalogs and technical brochures

Compare up to 10 products