Catalogs

>

Virtual IV Sell Sheet
Catalog excerpts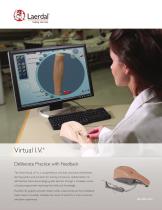 Deliberate Practice with Feedback The Adult Virtual I.V.® is a comprehensive and fully interactive self-directed learning system and simulator for training intravenous catheterization. Its self-directed instructional design guides learners through a complete course of study, progressively improving their skills and knowledge. Powerful 3D graphics provide realism while a state-of-the-art force feedback haptic device accurately simulates the sense of touch for a truly immersive simulation experience.
Open the catalog to page 1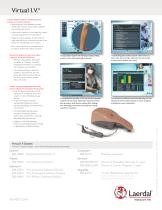 Virtual I.V.® Practice needle procedures with life-like patient anatomy in real-world scenarios: • State-of-the-art force feedback provides realistic feel in terms of skin stretch, palpation, size, and insertion forces • Allows user to perform a two-finger skin stretch technique appropriate to the procedure • Supports arterial palpation at both temporal scalp sites and the arm, allowing the pulse to be felt by the user, defining artery location • Over a dozen pieces of virtual equipment can be used to perform the medical procedure Powerful 3D graphics provide visual realism creating an...
Open the catalog to page 2
All Laerdal Medical catalogs and technical brochures

Compare up to 10 products