Catalogs

>

The First Fractional and Cold Plasma Platform Device in the World
Catalog excerpts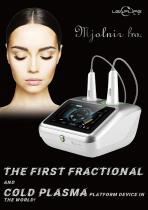 Compared To Fractional RF Whose energy just reach epidermis, so can't treat wrinkles and scar problem in dermis. Needles don't contact skin to operate, not be influenced by skin resistance. By higher voltage, faster discharge, release energy in shorter time, lower skin damage. Mjolnir Pro's investment cost is much more economical, but can cover all the application of laser. Safety risk to operator and patient both Compared With Normal Plasma in is performed at a lower frequency, and the plasma column has poor directivity and low power. Single plasma's or, so more dangerous and bigger damage...
Open the catalog to page 3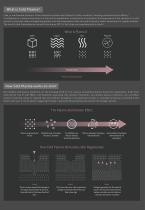 A cold plasma is a plasma that exists in a state of non-equilibrium. In contrast to a hot plasma, the temperature of the electrons is a cold The result is that these plasmas can exist at as low as 30*C! In fact, they are completely safe to touch! How Cold Plasma works on skin? Non-ablative cold plasma treatments are the emerging trend for non-invasive and painless plasma-based skin rejuvenation. Aside from plasma-containing energy to targeted skin areas without damaging it. The generated energy, or activated ionized gas, is emitted to the dermis skin layer in micro-pulses, triggering the...
Open the catalog to page 4
All Leaflife Technology catalogs and technical brochures
Compare up to 10 products