Catalogs

>

LORAN

>

OPEN BOX
Catalog excerpts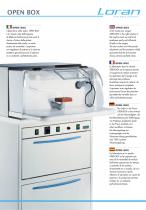 OPEN BOX OPEN BOX Il laboratorio nello studio. OPEN BOX è la risposta nata dall'esigenza di effettuare facilmente gli interventi di ritocco e finitura delle protesi, direttamente nello studio, in modo pratico ed immediato. L'aspiratore con regolatore di potenza e lo schermo protettivo garantiscono poi di operare in un ambiente perfettamente pulito. OPEN BOX A lab inside your surgery. OPEN BOX is the right solution to the need to touch-up and finish prostheses easily and efficiently directly in the surgery. The dust suction unit with powder adjustment and the protective shield guarantee that the environment always remains perfectly clean. OPEN BOX Le laboratoire dans le cabinet. OPEN BOX est la réponse donnée à l'exigence de réaliser aisément les opérations de finissage et de polissage des prothèses, directement auprès du cabinet, de façon pratique et immédiate. L'aspirateur avec régulateur de puissance et l'écran de protection permettent de travailler dans un milieu parfaitement propre. OPEN BOX Das Labor in der Praxis. OPEN BOX ist die Antwort auf die Notwendigkeit, die Nachbearbeitung und Endfertigung von Prothesen problemlos direkt in der Praxis praktisch und sofort ausführen zu können. Die Absauganlage mit Leistungsregler und die Schutzvorrichtung gewährleisten eine 100% saubere Arbeitsumgebung. OPEN BOX Un laboratorio en su estudio OPEN BOX es la respuesta que nace de la necesidad de realizar fácilmente operaciones de retoque y acabado de las prótesis, directamente en su estudio, de una manera funcional y rápida. Además, el aspirador con ajuste de potencia y la protección permiten trabajar en un ambiente perfectamente limpio.
Open the catalog to page 1
OPEN BOX è dotato di illuminazione a luce fredda, alloggiamento per micromotore, pulitrice, soffio aria comandato a pedale ed aspirazione con controllo di velocità. encombrement en phase de repos est limité. Son standard de construction lui permet d'être introduit de façon élégante dans tout genre de cabinet dentaire. OPEN BOX Il pratico piano a scorrimento consente una comoda posizione di lavoro durante la fase operativa, mantenendo un ingombro limitato in fase di riposo. Il suo standard costruttivo ne permette l'elegante inserimento in qualsiasi studio dentistico. OPEN BOX OPEN BOX comes...
Open the catalog to page 2
All LORAN catalogs and technical brochures
Archived catalogs

Compare up to 10 products